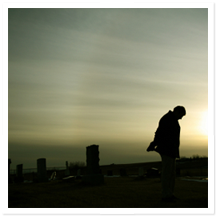 While most people would choose not to be reminded of their tragic loss, sad funeral songs continue to be played to make people remember their loss in life. However, while these sad songs remind people of a dearly departed family member, these songs – ironically – also ignite a spark of hope for those left behind. These songs also remind the family that life goes on and it encourages them to live life to the fullest.
Sad funeral songs touch us deeply and can be an important part of the grieving process. However, deciding on what songs to play at the funeral can be very difficult. When thinking about what songs to play at your loved one's funeral, you should start by deciding what effect you want the song to have. For example, do you want the song to remind you of specific qualities of your loved one? Do you want the song to speak to their death and passing on to heaven? Or, do you want to play songs that your loved one enjoyed listening to that will bring back fond memories of time spent together?
Any of the sad funeral songs listed below will be an excellent choice for paying tribute to your loved one.
Sad Funeral Songs
Click the box below to listen to a free preview of the sad funeral songs.
"Tears in Heaven" by Eric Clapton
"Angel"  by Sarah McLachlan
"When I Look To The Sky" by Train
"If This Is Goodbye" by Mark Knopfler
"Con te Partiro" by Andrea Bocelli
"Good Riddance (Time Of Your Life)" by Green Day
"End of the Road" by Boyz II Men
"Photograph" by Nickelback
"I Don't Want To Miss A Thing" by Aerosmith
"Dust in the Wind" by Kansas
"Landslide" by Fleetwood Mac
"Far Away" by Nickelback
"Untitled" by Simple Plan
"How to Save a Life" by The Fray
"Amazing Grace" by Chris Tomlin
"Wish You Were Here" by Pink Floyd
"Unforgettable" by Natalie and Nat "King" Cole
"When You're Gone" by Avril Lavigne
"What a Wonderful World" by Louis Armstrong
"When I get where I'm going" by Brad Paisley
"Sound of Silence" by Simon & Garfunkel
"Silent Lucidity" by Queensryche
"Yesterday" by The Beattles
"Cryin' For Me" by Toby Keith
"Go Rest High On That Mountain" by Vince Gill
The important things about funeral songs, whether they are sad funeral songs or happy funeral songs, are that they are fitting tributes to the life of the recently departed person. Select songs that remind you of the wonderful memories you shared with your loved one. Or, select songs with lyrics that express your thoughts and feelings about their life or passing.
After you have listened to the sad funeral songs and selected one or two songs for the funeral, you should contact the funeral home that is handling the funeral service. They will need to prepare to have the music ready at the funeral, or may require that you bring the music with you.
Sad funeral songs can touch us deeply and have an important place in a funeral. We recommend that you choose one or two sad songs to play during the funeral. You may also want to choose one or two happy songs as well. There are appropriate times during the funeral service for sad and happy songs. For additional sad and happy song options, view our other funeral song articles below.