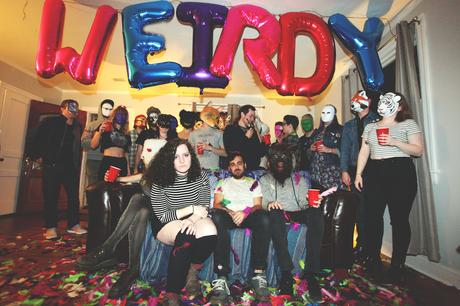 "I hate you/But I want you."
This sentiment, one that most people in their adult lives can sympathize with having felt at one point or another, is the sentiment that Nashville grunge-pop duo Sad Baxter's debut LP Weirdy begins with. These words, spit like venom with the utmost sincerity, come from the mouth of frontwoman Deezy on the first track off the album, "The Drip," an already-released frustration-ridden tune about the conflict of knowing that despite the fact you might desperately want to be with someone, they are in some way (or a lot of ways) not right for you.
Weirdy is angry female-fronted grunge-pop through and through, but unlike many bands of the same ilk, there's no hint of irony or apology to their music. The franticness typical of the genre is absent in their music, replaced with conviction. Even on the vulnerable "Muddy Pup," an acoustic interruption to the album 6 tracks in, when Deezy sings "Please take care of me/I know that I'm just your muddy puppy," there's a distinct confidence in the lyrics, an acceptance of the way things are.
In terms of angst, Weirdy runs the gamut. Deezy's self-assurance shines through in her lyrics and voice, even when she sings "I'll never write a song again/and you won't crack a smile or I will crack somethin' over your head" on "Zeroes." There's no mistaking whether she, in that moment, is feeling what she is purporting to be feeling–she's pissed the fuck off, and comfortable enough in her anger to articulate the nuances of it, earlier in the song even imagining a life with the subject. Any emotional conflict felt by the band is put out into the music, in real time, in a way that allows you to feel as though you're not just listening to someone describe problems they have worked through, but working through their problems with them. It's unclear whether this level of intimacy was prioritized when writing the album, but it's what makes Weirdy stand out amongst the current sea of other albums in the same vein. It's totally genuine, without a single pouty "look how artistic I can be" track to be found.
Sad Baxter aren't Bjork. They're not Beck. They're not winning any awards for their 30-piece orchestral live show. But, although I'm sure they (as anyone) would like to be in those shoes, that's not what they aspire to. What they demand to be is something that is fun, personal, and honest above everything else. Which, these days, is an incredibly rare quality, and one of the highest caliber.
You can catch Weirdy streaming above in its entirety, and it's available for presale here before its official release on Cold Lunch Recordings 7/29.