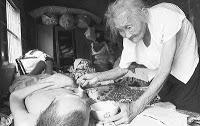 Chinese Mother tending to her son
Most of us are un-thankful to our mothers for all the unconditional love and sacrifices done by her for us. We feel imprisoned by her concerns for our food and safety. We take it as an impediment to our freedom.  
" I can't call you daily mom," is the general remark sent by us to her when she wants us to call daily that too just check our
comfortability.
But all of us should never forget the sacrifices made by her. Here is a story of such a brave mother who despite all odds loved her son so dearly that no one can match it. Can children also do the same for their parents? Let's read on:
In East China's Anhui Province, a 97-year-old mother surnamed Zhang has been taking care of her paralyzed son for about 40 years all by herself. Zhang's story was put online by domestic media few months ago, which stirred intense discussion.

Web users from all over the country offered as much as 100,000 yuan to the poverty-ridden family, yet were.turned down by the mother despite her hard life. Zhang has been hailed as a "heroic mother" by her fans.