There's just 8 more days until the launch of Earnings Busters Q3!
The first of Sabrient's quarterly Earnings Busters portfolios—Earnings Busters Q2—is up +5.93% since its launch on April 15 -- despite last week's terrible market.  This is more than double the S&P 500's return of +2.58% for the same period!
If you want this kind of market-beating performance in your portfolio,


With the Q3 portfolio, you'll receive the list of recommended stocks at the beginning of the quarter and can sell them at the end of the quarter. Just as with Q2, the selection strategy is based on the powerful Baker's Dozen strategy but with a shorter term outlook. If you recall, the Baker's Dozen 2012 gained +43% in 2012 and is up more than 20%+ in 2013.
The on-demand video presenting the rationale for the 20 stocks selected will be available after 5 p.m. on Saturday, June 29, 2013; the companion report will be published a week later.
Reserve your spot now for only $99.00!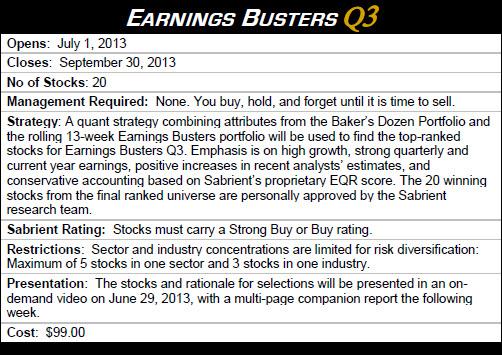 Note: ANNUAL subscribers to Sabrient's Platinum Subscription will receive the Q3 video and report without additional charge.
———————————--
Disclaimer: The Earnings Busters portfolios are published solely for informational purposes and are not to be construed as advice or a recommendation to specific individuals. Trading involves risk, including possible loss of principal and other losses, and past performance is no indication of future results. Sabrient makes no representations that the techniques used in its rankings or selections will result in or guarantee profits in trading. Further, its analyses are based on third-party data, which Sabrient cannot guarantee as to adequacy, accuracy, completeness or timeliness. Sabrient accepts no responsibility for any loss arising for use of these materials.
This article will become free after 48 hours (see below for free content). To read the rest of this article now, along with Phil's live intra-day comments, live trading ideas, Phil's market calls, additional member comments, and other members-only features -
Subscribe to Phil's Stock World by clicking here
.