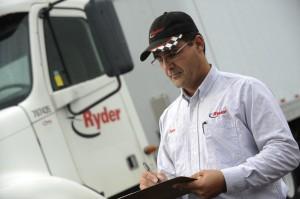 Every day, millions of truck drivers take to the road to make sure that they are delivering the goods that America needs. Professional truck drivers in the United States are delivering essential goods to communities all over the country. Drivers deliver supplies to hospitals and medical clinics; they deliver food to our super market shelves, raw materials to manufacturers, and fuel to our gas stations to keep the nation moving.
This week we want to recognize the contribution of the 3.1 million professional drivers dedicated to serving the industry safely and securely. Here are some facts that highlight their importance.
Did you know that…
Employment in the trucking industry is equal to 6.9 million or one of every 16 people working in the United States.
Professional truck drivers drove over 397.8 billion miles in 2011, more than double 25 years ago.
Most individual long-haul drivers average from 100,000 to 110,000 miles driving per year.
There are 2.3 million class 8 trucks on the road in the U.S. and 11.7 million commercial trailers were registered in 2011.
Nearly every good consumed in the U.S. is put on a truck at some point.
Over 26 million trucks haul freight in the United States.
Trucks have overall crash rates less than half that of other vehicles.
More than 80% of U.S. communities depend solely on trucking for delivery of their goods and communities.
The average daily run for an over-the-road driver is nearly 500 miles.
Source: American Trucking Association
Join us in honoring the men and women who leave their homes every week to make sure your business has what it needs. Their efficiency and safety guarantees that businesses and consumers can ship goods across state lines with confidence.
Let's honor their dedication to keeping our roads and highways safe. And let's recognize their contribution to our businesses and even better, our economy.
Have you taken the time to show your drivers your appreciation this week?