Ryan Langdon has been wracking up steams to the count of more than 2 million, and with more on the horizon, the Niagara Falls, ON native has released his new Lit In The Sticks EP.
Langdon has been on our radar since he performed at Boots & Hearts 2016 as a finalist in the Emerging Artist Showcase. Since then he's been releasing singles, creating a fanbase and playing shows and stages as he's moved forward in his career. And now, with the release of his debut EP, Ryan has put together a collection of six country songs for fans to dive into.
2019 saw Langdon drop Lit In The Sticks as a single, followed by The Dirt, Buck Wild, and Crossfaded in 2020. Those four tracks are joined by Best Night and his new single Feelin' That to round out the EP.
Hit play to hear Feelin' That now.
With a deep voice that has the ability to be smooth and a little gruff when called for, Ryan Langdon's a great fit on country music playlists. And with Karen Kosowski (Mickey Guyton, Brett Kissel, The Washboard Union) producing, and joining the pair for multiple songwriting sessions, there's a lot of talent behind-the-scenes that's come together in this EP to go along with Langdon on the microphone.
The result is a set of songs that's ready for cold drinks, hot nights, bonfires, friends, and if you're in the mood for it, a party.
Whether you're passing around a bottle or everyone's got their own solo cup, Ryan Langdon has submitted his application to be your summer night playlist.
Related: Ryan Langdon, Country Music Association of Ontario Artist of the Month Feature
The 1.6 million (and counting) streams on Lit In The Sticks has been the leading force in the growth of Ryan Langdon's audience and reputation. And, with the addition of the songs that have followed, and now the release of his first EP, we expect to see and hear more and more of him.
Heck, if I'm making a prediction right now, I'd tell you that I expect to see Ryan Langdon nominated for a Country Music Association of Ontario Award in 2021 (and maybe more).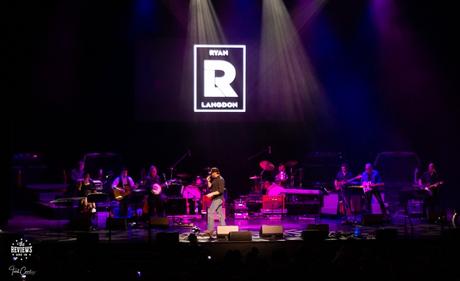 Ryan Langdon's not new to country music, but he is still in the early stages of a career that has a chance to keep growing. And when we emerge from the depths of the COVID-19 moratorium on live music, I expect that we'll see Ryan pick right up where he left off. Back in 2016, we asked what fans could expect from his Emerging Artists Showcase performance and he told us that he'd be bringing, "high energy, smooth vocals and somebody who is having a great time doing it." If he's going to keep doing that in 2020 and beyond, he's going to be alright!
If you've already enjoyed the songs you've heard from Ryan Langdon or maybe you like Shawn Austin, Andrew Hyatt or Jade Eagleson (all listed as Related Artists by Spotify) we suggest that you give this 18-minute EP a listen. It's well produced, all of the songs feel like they belong together in one collection. And perhaps most importantly, Ryan Langdon sounds like he's the right guy to sing each of these songs, giving performances with the right vocals, feelings, and energy they need.
Check out the Lit In The Sticks tracklist, the stream from Spotify, and the official videos for Lit In The Sticks, Crossfaded, and Buck Wild.
Turn the volume up and enjoy!
Ryan Langdon, Lit In The Sticks EP Tracklist