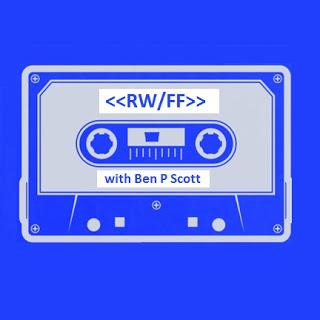 This week: a great compilation from Rocket Recordings, interviews with ex Babybird man Stephen Jones and the magnificent Ultrasound, who release an awesome Christmas single next week. As well as new music from King Prawn and Drowners, there's the latest edition of The RW/FF Compilation, a mixtape featuring the best new music of recent weeks... Then FINALLY, the concluding part of my 1995 memories which details Christmas of that year.
As the end of the year beckons, I have been busy starting work on the annual 'End Of Year' lists and features for RW/FF and God Is In The TV. This and other things have meant that I have not had a lot of spare time, this week so apologies for a slightly brief column. 
Here is the 11th edition of The RW/FF Compilation, which you can listen via Mixcloud HERE. It showcases the music that has featured in the column over the last few weeks. I don't have regular dates set for each of these mixtape-type things, instead I just wait until I have an 80 minute CD's worth of great new music to make up each compilation. Contrary to what some ignorant people think, there is plenty of excellent new music out there, as is proved by every one of these brilliant mixes. It works as a talk-less radio show playing non-stop music, and it also works as a far superior alternative to those dreadful 'Now!' CDs. The idea is to buy all of these tracks and burn onto a blank disc, hence why each compilation will be roughly the length of a CD. Alternatively, just sit back and enjoy the best new music of recent times… This one features Mike Hughes, Midlake, She Makes War, Black Submarine, Depeche Mode, Gaz Coombes, Horse Party, Moby, Pins, Steve Cradock, Trans, Samaris, Weatherbird, Yuck, Paul McCartney and Roy Harper.
As I said last week, broadcasting a live radio show from the annual Melksham Christmas Fayre on Saturday November 23 turned out to be most enjoyable. Listening back to our three hour broadcast... truly hilarious. Have a listen, go on. It could be THE funniest thing you'll hear this Christmas. Read more about our day HERE in this amusing blog entry, where you can also listen back to the broadcast...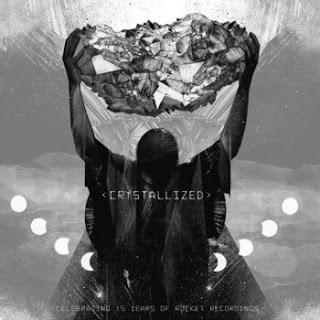 Rocket Recordings is a label based in Bristol and London that has brought some genuinely imaginative and brave artists to people's attention, including the awesome Teeth Of The Sea, Gnod, and the superb Swedish tribal psych-funk merchants Goat. As 2013 draws to a close, the label celebrate their 15th birthday with 'Crystallized - Celebrating 15 Years Of Rocket Recordings', a fantastic 12 track compilation. A fine way to begin things, Teeth Of The Sea's contribution 'Run Red' is like something that you'd hear soundtracking a movie scene where all human life is extinct, a deep apocalyptic drone pierced with creepy synth growls and screaming guitar. On Gnod's 'Holy Empire', intergalactic ambience builds into chattering beats underlined by distant echoes of almost shamanic voices. It's another highlight, as are the pounding space rock of Uran's comparatively brief 'Emp' and the hypnotic eastern flow of 'National Drone' by Hills, with its excellent percussion and squealing guitar.
The awesome Goat deliver another dazzler, as their 'Goatjam' wires afrobeat with almost Can-esque repetition to create a mesmerising listening experience. A celebration of the music that this creative hotbed of a label has released over the last 15 years and a proud showcase of their finest acts, 'Crystallized' is well worth trying out if you're looking for an eclectic collection of imaginative sounds from an array of fascinating, boundary-pushing artists. Read my full review and listen to the LP by going HERE.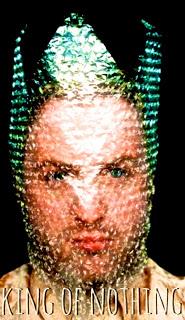 Stephen Jones
 is a prolific and gifted songwriter who since 1995 has released many albums. As a writer he's penned three published novels and an autobiography, 'Amplified Silence'. As the creative force behind 
Babybird
, Stephen sold over two million records, and scored eight UK Top 40 hit singles. After announcing the end of Babybird in 2012, cult hero Jones became 
Black Reindeer
. Largely instrumental, and consisting of soundtrack-like pieces, it's the sort of music that Jones has always considered to be his personal favorite. I spoke to this underrated genius about the latest Black Reindeer record, the end of Babybird and his next move... on the subject of self-releasing the BR albums Jones told me: "
It's very difficult to release things on your own. Without a record company I can just about do it, but there's no real possibility of press (apart from people like yourself) or publicising beyond Twitter. And I don't think that most people who follow me even know that I do music. Very weird... But for now I really enjoy having the control - artwork, release dates, etc. even though 11 albums seems a lot, I don't feel like I'm flooding the market, as the albums have a very short lifespan, because the promo is so minimal." Read the full interview HERE.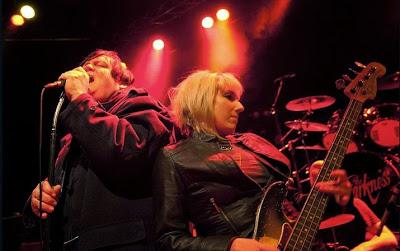 In other (rare) interview action on the RW/FF site, I spoke to the mighty Ultrasound, who many of you will remember from the late 90's. 
After the band went their separate ways, it would be nearly a decade until the beast roared back into action, but their incredible 2012 comeback LP 'Play For Today' more than made up for the wait, a stellar record that proved Ultrasound not only had unfinished business, but were back better than ever. 
Following the acclaimed sophomore album, 2013 has seen the group back at work recording their third album which is due for release next year. But you won't have to wait until 2014 to get your fix of new Ultrasound magic, since they have a truly spellbinding Christmas single coming out on December 13. 
Beginning with a bright festive glow before Tiny's unmistakable voice sets the scene, building gradually into a heartfelt reminder of the real spirit of Christmas, 'Modranicht' is also a rare musical acknowledgement of the Winter Solstice. The brilliant track is available to pre-order HERE. I spoke to Tiny and Vanessa from the band about their hopes for the festive season and the new year... On the subject of the single Tiny said: "Every song we write tends to become epic, over the top and dramatic, so we are the perfect marriage. I'm sure it won't be the last time we tackle it as there's so much to say about such a special time. Richard came up with the main riff and I instantly thought this could be the Christmas song we had always threatened to do. I tried to backtrack the theme beyond the Christian meanings because this festival goes further back than Christ, and tried to return it to a more innocent celebration of life and hope, as that is ultimately what Christmas is about for the majority of us." Read the full interview HERE.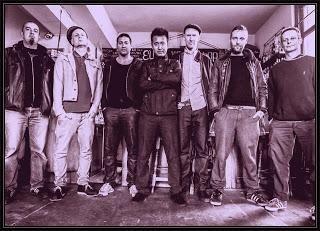 While I was living my "punk rock years" between 2003 and 2009, I discovered a lot of groups who no longer appeal to me at all. In contrast King Prawn were certainly more highly regarded, and their music always seemed to have more weight than many others. Mixing ska, hip hop, ragga and punk (among other things) they were hugely influential on bands like Capdown, Random Hand and The King Blues, adding extra dimensions and depth to the UK punk scene. Unfortunately I got into the group just as they had announced their split in 2003, but that didn't stop their four superb 
albums becoming part of my collection. 
So it was a pleasant surprise to hear that King Prawn had reformed last year in 2012. After embarking on their first tour for nearly a decade, the reignited outfit have just released some brand new material, and despite original bassist Babar Luck choosing to opt out of the KP resurrection, the magic is still there. And after spending the last few years with Asian Dub Foundation, frontman Al Rumjen continues to deliver the lyrics with vital urgency surging through his unmistakable vocals.
While 'Done Days' evokes the sound of the beaten and bruised rising defiantly, it goes way beyond basic "ska-punk" in terms of melody, allowing a hint of soulful maturity to color the music. Then we get it's AA side, the awesome and somewhat darker 'A Solemn Man', which carries on from where 'Got The Thirst' left off. It builds slowly from Spanish-flavoured discontent into a rousing middle section before making fine use of their new expanded brass section towards the end. There's more to come too, as they have suggested that a new album is in the making. Good to have them back I say.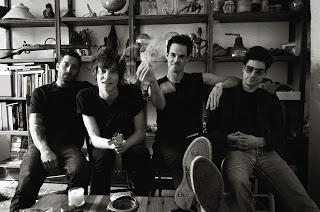 An upbeat and sweetly melodic piece of indie pop brilliance from the rising four piece Drowners. In the summer of 2011, Drowners frontman Matthew Hitt found himself in New York City, the place where the Welsh born singer feels most at home. "I just like the way things look here. I like the way things are done here. I like how late everything happens," he says. New York's signature up-all-night energy courses through Drowners' self-titled debut, which is due for release January 27 2014. "The early songs came out really short – I thought, well, I've already sung the chorus twice I don't need to do it again, that's what makes it a chorus! I think that being in New York influenced what I was trying to do with economy in song structure and instrumentation. It's like, here's what I'm trying to say. Okay, I said it. Now it's over. Onto the next one."  While in New York, Hitt also met likeminded souls, including future bandmates, Jack Ridley III (guitar, vocals), Erik Lee Snyder (bass) and Lakis E. Pavlou (drums).
After spending 2012 securing record deal and working hard on their gig schedule, they released a well-received EP 'Between Us Girls'. The first single off Drowners' eponymous debut 'Luv, Hold Me Down' is a propulsive slice of perfect garage pop. "It brings across this sort of jovial misery," says Hitt, "It's kind of pop, like a lot of the rest of the record, but lyrically, it's not as shiny as seems."
Rewind: 1995 (continued)
FINALLY. After months and months of reliving my musical memories from the glorious year 1995, I have completed the final chapter, and can now think about moving on to 1996. My epic 6 part 1995 'Best Of' compilation will be online next week to coincide...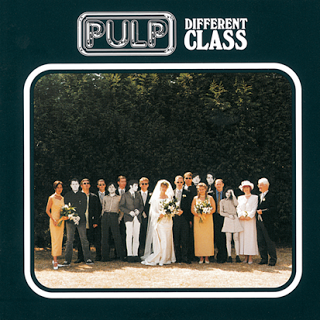 The first Beatles 'Anthology' album was at the very top of my Christmas list that year, and unwrapping it on the big day made a memorable festive season even more enjoyable that year. While still being young and materialistic, by then I had also come to appreciate the joy and warmth of Christmas songs and the sparkle of the decorations a lot more. So much so, that by this point I was turning my tiny bedroom into my own comfy little grotto, sitting in the warming glow of my many fairy lights and basking in the optimism of my Christmas hits compilation tape (mostly recorded off the radio). But the festive songs would soon be put away for another year once I had been bought some new CDs as presents. One of them was by a band who, like The Beatles, were also returning with new material, despite their singer being dead. Yes, I'm talking about Queen's could-have-been-much-better 'Made In Heaven' album. It's safe to say that none of that was up to the standard of 'Free As A Bird'. I also got a copy of 'The Heart's Filthy Lesson' by David Bowie, a single which I hadn't even heard at that point probably due to it being deemed to "weird" for the radio. Compared to the rest of the extraordinary 'Outside' album (which I acquired the following year), it didn't seem that odd. But more importantly I now owned a copy of Pulp's awesome 'Different Class', which confirmed them as something very, very special indeed. Every song sounded like a hit single, even the sleazy, somewhat smutty ones that I didn't quite understand back then. All these great bands seemed to come from nowhere that year.
Truly, there was no better time for me to grow up. Sometimes part of me wishes that I could have been a few years older, so I could have understood Britpop more at the time and experienced it fully. But it was fate that it all happened before my teens. It put me on the right path, at the right age, at just the right time. A few years later it would be a lot more difficult to discover great music in the mainstream, but I got there just in time. If I didn't, I wouldn't be talking to you now. If people told me back then that those were the best days of my life, I wouldn't have believed them. At that age all I wanted to do was grow up. All I could do was hope that the next few years would pass as quickly as possible so I could be an adult and do what I wanted. The 29 year old me would have urged the 11 year old to think differently and to savour every second. If I could go back, it would be incredible. 11 years old, life in front of me, a little 2 year old Max running around, all my family and loved ones still there, nights at my Dad's club, and Britpop in full swing. I would give anything to relive it all again.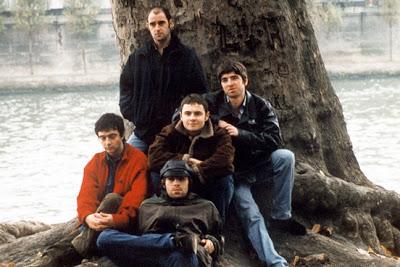 At the beginning of the year I didn't know what indie music was. I knew of the Indie Chart that was featured on the ITV Chart Show, but wasn't entirely sure what the term meant. Soon I knew of Blur, Oasis and Suede and I knew that there was something different about their style of music. But this style had now become something of a standard, and in such a short space of time, the backbone of British music. 1995 was a year that changed everything for me, hence why I have spent such a long time writing about it. People will argue that many of the Britpop bands were far from alternative, but to an 11 year old in the mid 90s this really was something new and exciting. Aside from the dance acts whose music I would buy for use in my dj sets, many of the bands and artists who arrived into my life in 1995 have never left. What a year. 1996 was equally memorable. More on that to come...
http://rwffmusic.blogspot.com/