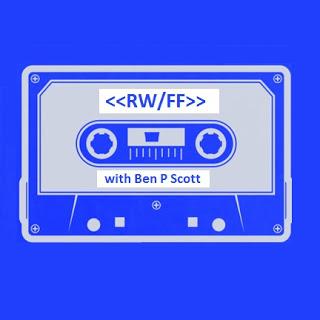 This week: the brilliant second album from Yuck, The Orb's new 3CD boxset, the new Parquet Courts EP and a budget compilation featuring 12" versions of 1980's club classics are all reviewed. Plus, the Manics, The Fall, Cave, Empty Paintings, Port Erin, Thought Forms, Teeth Of The Sea and Esben And The Witch... And instead of the usual "Rewind" part of the column, there is a tribute to a special friend who I lost exactly a year ago today...
In the two years following their self titled debut, Yuck experienced an upheaving line up change. When band members leave an outfit only a couple of years into their career, it can often be worrying, but when the frontman departs, most groups don't survive. However, Yuck's second LP shows that the magic didn't leave with Daniel Blumberg. Instead of leaving a gap, the line-up changes have enabled the remaining members to find more space for their ideas to flourish, and the new Yuck don't seem to be any less brilliant than before.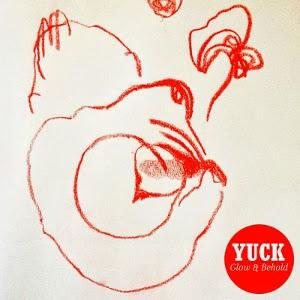 Musically it still takes plenty of inspiration from the 1990's, the radiant highlight 'Lose My Breath' pairing Teenage Fanclub rhythm guitars with Dinosaur Jr lead parts, and demonstrating their great ability to bless songs with ear-seducing hooks. A lot of this album sounds like it could have been released by Creation Records in the early 90's, and that's certainly not a bad thing. Their confidence is very much evident on the fantastic single 'Middle Sea', a carefree breeze of a tune driven by thriving riffs, a wonderfully infectious melody and the sound of youthful abandon. It also shows that their love of distortion pedals remains intact. On the lilting 'Rebirth', sheets of dramatic, woozy guitar contrast with that sweetly melodic touch, the signs clearly pointing towards 'shoegaze'.
A far more cohesive record than its predecessor, 'Glow And Behold' is a warming collection of songs from a tight knit group completely at ease with their sound despite the significant departure of their frontman. It may have been a blessing in disguise which has allowed the band to move in a destined direction where they can truly excel. A fine album that is well worth your time. The more you let it grow, the more you will hear it glow. Read my full album review HERE.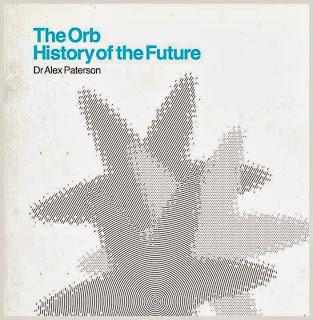 The history of electronica just wouldn't seem complete without The Orb, impossible to imagine even. As well as a story of Alex Paterson's output over the 90's, the new 3CD boxset 'A History Of The Future' also tells of how dance music changed over the ten year period, beginning at the height of rave and ending with polished pop numbers featuring female guest vocalists. In between however, we are reminded that The Orb stood by themselves within the genre and followed a dramatically different path to all the others. The first disc of this three part collection shows off the pivotal singles released at the peak of their creative power. With its bubbling, hazy groove, the picturesque 'Little Fluffy Clouds' remains one of the most trippy chart hits of all time and still sounds just as mind-opening as it did back then, as does the infectious, bass-heavy ambient dancehall of 'Perpetual Dawn'.
The second consists of a variety of remixes, of which there were many accompanying each multiformat single release. Here we get a good selection of the most interesting ones, ranging from the beatless acid ambience of 'An Ever Growing Pulsating Brain...''s 'Aubrey Mix Mk II', Coldcut's electrified funk 'Heavyweight Dub' reworking of 'Little Fluffy Clouds', and the mighty Ultrabass 1 mix of 'Perpetual Dawn', where Andrew Weatherall underlines the dubbed-up groove with a fat Jah Wobble bassline. The highlight of the whole package has to be the third disc featuring mind blowing live interpretations of key tracks, which with the exception of the final number, are taken from a glorious 1993 set at Denmark's Trekkoner festival. Using tape machines and mixers to trigger off a wealth of extraordinary noises, samples and entrancing beats, they created a mesmerising, stratospheric live experience that transported audiences into new orbits. Only listen if you're prepared to go on a journey. On an incredible 'Towers Of Dub', Eno-like vibes collide with barking dogs, reggae rhythms, as the pair brilliantly utilise an arsenal of sounds from all corners of the globe and beyond. It's truly music to lose yourself in...
Along with a fourth disc containing promo videos and a couple of those classic Top Of The Pops, it's a nostalgic reminder of how far dance music had come in the 90's, and for others a superb introduction to the musical mindset of Alex Paterson. Although it's a 25th anniversary set billed as "a collection of landmarks from their first two decades", there's nothing here from the last half of that period, which means that 'A History Of The Future' doesn't entirely fulfill its purpose. However, as a document of their glory years, this is superb stuff. Worth it just for the live disc. Read my full review HERE. The video below begins with that amazing live version of 'Towers Of Dub'...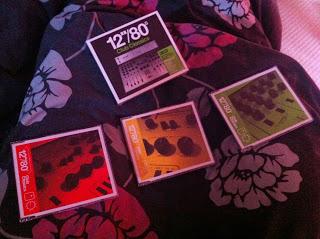 '12"/80's Club Classics' is the tenth installment in the 12"/80's series, and puts together a collection of full length and extended versions of some of the songs that set the era's dancefloors on fire. Spanning 3 discs and on sale for the same price as a single CD, it's an eclectic mixture, visiting different genres and recalling the various scenes that emerged from a variety of places. Highlights from the early 80's include Grandmaster Flash's seminal 'Adventures Of Grandmaster Flash On The Wheels Of Steel', which still stands as probably the greatest "megamix" of all time, and was undoubtedly a pioneering piece of work that introduced a new type of craft into the musical mainstream. We are treated to groovy elegance of Carly Simon's Chic-penned 'Why', and the irresistible Kurtis Blow classic 'The Breaks', one of early hip hop's true masterpieces. Timeless hip hop cuts from N.W.A (the effortlessly magnificent 'Express Yourself') and the superb Eric B And Rakim (the Jackson 5-sampling 'I Know You Got Soul') borrowed elements from other records to help create classic works of their own, and sound utterly vital on this collection.
Continuing the visionary use of sampling were the likes of Bomb The Bass, whose cut-and-paste puzzle of sounds and grooves 'Beat Dis' is featured on CD 3, which is undoubtedly the most essential of the three discs here. Towards the end of the decade we find an all too brief selection of tracks that soundtracked nights at the Hacienda, but considering the impact that acid house had during the late 80's, there's not very much evidence of it here, although the Spatial Expansion remix of S'Express's 'Hey Music Lover' closes the 3rd disc nicely. Overall the 3 disc set does cover a lot of styles and puts together an evolving picture of dancefloor trends in the 80's, however a few choices (particularly on disc 2) could have easily been substituted for stronger and more important tracks, and too much attention is given to the electro-soul of the decade's middle part. It gets credit for choosing more than a few excellent tracks that really do need to be heard in their full glory rather than the chopped single edits usually featured on Various Artist compilations. Read my full review HERE.

On Monday nights I usually present my live radio show The BPS Broadcast on local station Melksham Town Sound. I didn't do so this week because on Monday night (October 14) I had the pleasure of going to see the final date of a fantastic three-way headline tour that featured Teeth Of The Sea, Thought Forms and Esben And The Witch. All three were excellent. A review of this gig will be coming to RW/FF soon (and will probably belatedly feature in next week's column), in the meatnime have a look at some photos I took on the night. Pictures of Thought Forms HERE, Teeth Of The Sea HERE, and Esben And The Witch HERE.
Port Erin are a Wiltshire-based three piece, who formed in 2007. Following on from their debut 'See You On The Common' LP, they released their second 'Wheel Inside A Wheel' to critical acclaim last year in 2012. After recently issuing a new EP entitled 'Three', 2013 has seen the band record over 60 hours of improvised music. The jamming sessions have been whittled down to 17 songs which is being shaped as the backbone for their third LP. Port Erin will be touring this new material sporadically during this Autumn and Winter. Recorded at Melksham's excellent Nine Volt Leap studios, here is a live session captured brilliantly by producer Dom Bailey and cameraman Rob Gale...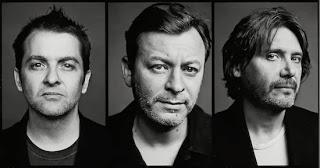 A week of performances at the BBC's Maida Vale studios have been broadcast on 6Music and the interactive red button channel. Yesterday (Thursday October 17) it was the turn of the legendary Manic Street Preachers, and being able to watch their 7 song set live was an all too rare televisual treat. 'Motorcycle Emptiness' and 'Your Love Alone Is Not Enough' opened the performance, and (perhaps due to it only being midday) they seemed to take a while to get going. After going through a period of being massively charmed by it, 'Show Me The Wonder''s chorus has become a bit annoying, although those verses and the instrumentation are wonderful. It's going to be one of those Manics songs that I'll fall in and out of love with many times. After a rendition if 'If You Tolerate This...' which could have done without those backing vocals, the highlights began with a stunning performance of 'Anthem For A Lost Cause', the brass during the song's middle eight sounding absolutely wonderful. The awesome '30 Year War' buzzed with a defiant anger, and the line about "the invasion at the BBC" was thankfully kept intact.
A closing run through of 'A Design For Life' was delivered brilliantly as always, and afterwards the cameras kept rolling, but the sound switched back to the studio. The telly showed James Dean Bradfield returning to the stage, where he started playing an acoustic encore, however since there was no sound, I didn't know what he was playing until Lauren Laverne informed listeners (and viewers) that it was an acoustic rendition of 'This Is Yesterday'. I can only hope that they're broadcasting that soon. In other news involving the Manics and the BBC, a repeat of the 1998 'Close Up' documentary profiling the band was scheduled to be shown on BBC Two last Friday (October 11), only to be mysteriously cancelled with no explanation. We're still waiting for the Beeb to tell us why...
Following on from this year's brilliant 'Re-Mit', The Fall are releasing a six track EP comprising of all new material. Entitled 'The Remainderer', it's released November 21 on Cherry Red Records and is intended as a bridge between 'Re-Mit' and the band's 31st studio album lined up for release next year. Good to see Mark E Smith productive as ever. I've just been sent my advance copy, and am preparing myself to sit down with a cuppa and listen to it this afternoon...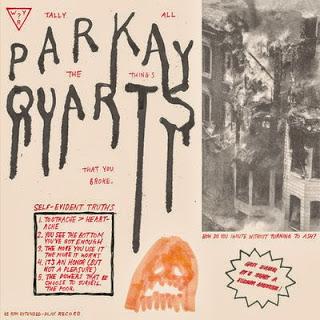 Parquet Courts are a four piece, originally from Texas, now relocated to Brooklyn. Having only released their debut album last year in 2012, they've come a long way in such a short time and seem to have benefitted from word of mouth rather than press hype. 'Tally All The Things That You Broke' is a five track EP that forms a bridge between the debut 'Light Up Gold' and their next full length recording. The evidence here suggests a great LP could be on the way, and these five songs are impressive enough to encourage new listeners to check out the first album. The infectiously energetic 'You've Got Me Wonderin' Now' runs on slacker vibes that contrast with its tight beat, stoner-punk would be a good way of describing it. In fact, it's not unlike Pavement but with the added bonus of a noisy recorder part underlining the chorus. The upbeat 'Descend (The Way)' has a similar no-nonsense appeal, while the relentless 'The More It Works' takes pleasure in repetition.
It's clear that they've either been listening to a lot of Fall records or bands that were inspired by The Fall, and the aptly named 'Fall On Yr Face' is almost like a homage to Mark E Smith's early work. The influence can also be heard in the jagged riff that repeats throughout the disjointed slacker hip hop of 'He's Seeing Paths', which also brings to mind what a collaboration between a The Beta Band and Beck might have sounded like. Although it's brilliantly goofy and undeniably enjoyable, maybe it should stop at around the four minute mark. For many it will be a good introduction to this band, since they have only recently come to people's attention. For others who have known about them for a while, it promises more great things for the future. 7.9/10

A selection from Cave's new LP 'Threace', released this week (October 14) on Drag City records. Comprising of 5 tracks that stretch to 42 minutes, pieces are elongated, made up of repeating riffs and off kilter rhythms that gradually unfold bit by bit. It's a record that requires patience over the course of a few listens to be enjoyed properly, and the 5 minute 'Shikaakwa' is the LP's shortest track. Touches of 70's prog and krautrock are put together with a stubborn percussive groove as wandering guitar parts intertwine with analog synths and the bright, organic flourishing of woodwind, flutes and other jazzy developments. It's odd, it's rather beautiful, and its rhythms really lock the listeners ear into its calculated patterns.

Empty Paintings is a duo made up of Nigel Clark and Colin Foreman. Clark is best known as frontman of 90's legends Dodgy, who were busy recording their brilliant comeback album 'Stand Upright In A Cool Place' when the idea for Empty Paintings came about. During the spring of 2010, Clark and Foreman began writing and recording a selection of material in a run-down barn that doubled up as a recording studio, located in Worcestershire. By the end of the year they had come up with a whole album's worth of material, and two of the Empty Paintings songs even made it onto the critically acclaimed 'Stand Upright In a Cool Place', when it was released in early 2012. The songs in question ('Shadows' and 'Did It Have To Be This Way') both ending up becoming fan favorites, and go down very well at gigs.Now the time has come for the Empty Paintings to be exhibited more extensively, as their 'Empty Paintings One' EP is released digitally. It contains four tracks, and can be heard in full HERE. From it, today's Track Of The Day is the wonderfully resigned melancholy of 'Life Was Richer'. While Nigel continues to play and record with Dodgy, lyricist Foreman lives on the waterways of Britain, in a small house boat. Inspired by that sense of freedom and beauty that surrounds him he writes poems and stories of his traveling experiences and the people he meets along the way...(note: although the track below is labelled 'Four Bags Of Gold', this is a mistake. It IS in fact a mislabeled 'Life Was Richer'...)
Beck's new song, 'Gimme'. Great stuff, but I still think that 'I Won't Be Long' was the best thing he's done in years...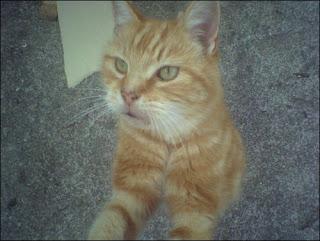 It's been a busy week, and the next few days are going to be equally activity-packed. Activities being work, listening to music, and writing. Today however, there is another reason why I don't have time to write my (supposedly) regular musical memory recollections... Exactly one year ago today (October 18) was the day that a huge era of my life ended with the passing of my beloved cat Max, who had been our family's best friend since 1993. He joined us when I was just a 9 year old boy, and we said goodbye when I was a 28 year old man. I miss my little friend, but keep his picture by my bedside every night, and will be making October 18 a special day of remembrance each year. Max was lucky enough to live with a family who loved and adored him, other cats aren't. So another part of Max's legacy (as well as the happiness he brought us) is for me to donate money to the Cats Action Trust (a great Wiltshire charity) as well as send a load of clothes, music and bric-a-brac to their local charity shop. 
The world is an emptier place without him, yet a better place than it was before he arrived. Not many cats get their own funeral. Max did. And out of three songs that we chose to pay tribute to him with, this was one of them...
Back next week, where my recollections of 1995 will (hopefully) reconvene...
http://rwffmusic.blogspot.com/