A surge protector is a must-have device if you wish to connect your RV to an outside, unknown power supply. The device absorbs unsafe voltages before they can reach your appliances and damage them.
That said, there are two main types of RV surge protectors—namely the RV surge protector and RV EMS (electronic management system). The two models have some differences which we'll address right below here to help you decide which one to get for your RV.
RV Surge Protector
This is the basic surge protector that helps protect your RV appliances from sudden high or low spikes in electricity. It also prevents your circuitry from getting fried as a result of unstable surges at the RV park and lighting strikes.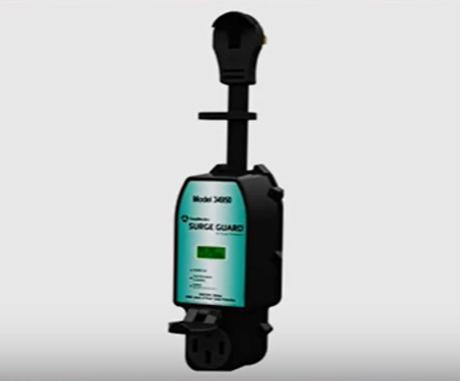 This protector usually comes with a user-friendly and pretty straightforward design, making it easy to install and operate for absolute beginners.
Most of the RV surge protectors come in the form of extension cables.
RV EMS (electronic management system)
An electronic management system (ems), on the other hand, comes designed to offer your surge protector high-level protection against a variety of common power issues such as power surges, low and high voltages, reverse polarity protection, open ground protection, open neutral protection, accidental 220V protection AC frequency protection, and even previous code errors.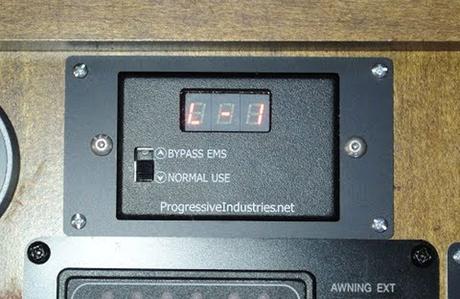 Simply put, the EMS models offer you full electrical protection from ALL the possible power-related issues you can think of.
Because of its more elaborate protection compared to the surge guard, the EMS comes at a higher cost than its counterpart.
RV EMS Vs Surge Protector: Key similarities
Both devices are designed to attain the same goal
Booth the surge protector and EMS are designed to achieve the same goal of protecting your RV appliances and electronics from getting fried as a result of sudden fluctuations in the current. This means you can rely on any of them to prevent damage and possible fire hazards in your RV.
Both come in portable and hardwired versions
It's also interesting to note that both the surge guard and ems devices come in either portable or hardwire version. The portable model is the one you plug in the pedestal power post and leave it outside while the permanent/hardwired version requires you to wire it your RV.
Each of these models has its own advantages and disadvantages;
For the portable, it's easy to use as no installation is needed. You can also easily use it with different RVs. And replacing it is easy in case it gets fried.
However, the portable device can easily get stolen when you leave it outside unless you secure it. it's also easy to forget it at the campground. And if you're working with a power outlet that's too low, it forces you to leave the protector on the ground. This is not a wise idea if the ground is wet.
A hardwired surge protector or ems is wired into your RV and becomes part of it, so you never have to worry about stealing it or you leaving it behind. Moreover, you can use it in various weather conditions as you don't need to leave it on the wet ground.
Unfortunately, installing this protector might not be easy, especially for first-timers. also, replacing it is a hassle. and the fact that its part of your RV means you can't easily shift it from RV to RV.
Both come in 30 and 50 amp versions
You also don't have to worry about not getting a power surge or RV EMS that's not compatible with the electrical service of your RV.
The two devices come in 30 amp and 30 amp versions, which are the most common power supplies you'll get in RVs.
All you have to do is match a protector with the electrical service of your RV. For instance, a 50 amp RV surge protector should go with an RV with a 50 am power supply.
RV EMS Vs Surge Protector: Key differences
Performance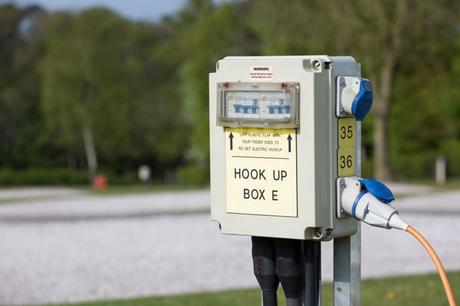 The KEY difference between the two models is how they do their intended job. While the surge protector only protects your appliances from sudden electric surges and high/low voltage spikes, an EMS offers you full protection against all power related issues including current surges, low and high voltage spikes, open ground, reserves polarity, high neutral, incorrectly wired power outlets, and more!
Cost
Though both surge protectors lie within an affordable range, the ems is going to cost you more than a surge guard because the former offers your RV electronics high-level protection compared to the latter.
Which one to buy?
Now that you know the main difference and similarities of RV surge protector and EMS, making a decision on which one to choose should now be easy.
The ultimate choice for you will depend on your budget as well as unique camping needs. If you're a beginner RVer with a limited budget, we recommend you to get a surge protector. If you're a full-time RVer, do yourself a favor and get the EMS surge protector.
Whether you go with a surge guard or electronic management system, the price you pay for it is well worth it keeping in mind the costly damages it'll save you from.