Let's be honest…while an air conditioner does a great job of cooling and purifying the air inside our RVs, it can also become a nuisance. It can get so LOUD when running that it makes it hard for you to sleep well, listen to music, or hold a conversation.
This might make you wonder…is there a way you can reduce the noise coming out of your RV air conditioner or even silence it for good?
The following post will cover ALL the possible fixes you can make to your noisy RV air conditioner to make it quieter and make life in your RV enjoyable once.
How To Make Your RV Air Conditioner Quieter:
We have talked to experienced Rvers, browsed through various RV communities and forums, and they all agree that the methods we're about to share with you below indeed help reduce the noise coming out of your RV air condition.
1. Inspect the mounting bolts for tightness
A tightly mounted air conditioner might be the cause behind too much noise in your RV. As it runs, it easily transmits the vibration in your RV via the walls and frames. The noise can get even louder and more annoying when your set air AC to full operation.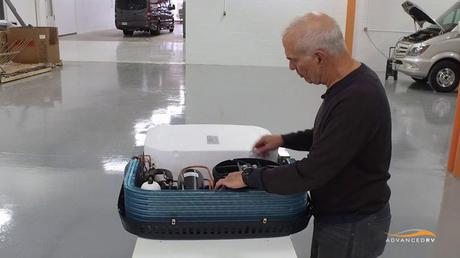 To see if this is the problem, check the mounting screws of your air conditioners. Are they too tight? If yes, you'll need to loosen them a bit (i.e., make them snug).
While still on the mounting part, any lose hardware that could be causing the noise. Loose screws, nuts, or bolts can end up displacing a component of your unit which ends up creating annoying noises.
We highly advise you to start with this simple fix before you can move to other solutions outlined below. Loosening the AC mounting might be the only thing you need to do to cut down the noise in your RV.
If this doesn't work, then you can move on to the next possible solution below…
2. Inspect the AC's rubber cushions
You might already know that your RV air conditioner comes with rubber cushions which help absorb the vibration emanating from parts of the unit when it's running.
In case these cushions wear out, they turn hard and cannot do a good job at absorbing the vibrations like before, so the vibration will get its way into your RV in the form of noise.
Does your system have worn our rubber cushions? If yes, replace them with new ones ASAP to deaden the noise coming out of your AC.
3. Check the fan motor
Fan motors have also been identified as the main causes of loud noise in most RVs. This is especially true in the case of older and heavily used air conditioners.
Take a look at your fan motor and consider replacing it if you find it to be in bad shape.
If you're not sure about the condition of your fan motor or just don't much about the air conditioner mechanics, you might consider asking a professional for the best advice.
Replacing the motor isn't as costly as you might think. Plus, you can do the replacement on your own if you have basic knowledge of electrical and mechanical appliances.
4. Invest in an RV AC silencer (AKA noise reduction kit)
Probably one of the most effective ways of reducing noise in your RV air conditioner involves installing a silencer.
This kit can bring the noise down in your RV by around 8-10 decibels, which is quite a significant change!
We suggest that you go for the noise reduction kit if you have fully diagnosed your AC and found it to have no problems, but it still can stop making noise.
Typically, the kits utilize thick cotton to line the inside of your unit's duct system, thus muffling the noise coming out of it.
You can even find noise reduction kits that help enhance airflow in addition to cutting down the noise.
Don't forget that installing these kits doesn't require you to hire an expert. They come with easy DIY installation steps that even a beginner can handle.
5. Regular maintenance is key in keeping AC noise low
Yes, taking good care of your air conditioner can also go a long way in helping reduce the noise it produces during operation.
You might be surprised to discover that the reason why your AC produces too much is because of neglecting it. For instance, blocked airflow through the vents can make the unit noisy. Ensuring the vents stay clean and unobstructed will bring down the noise levels.
Other maintenance tasks to carry out on your air conditioner include the motors, filters, fan, and duct system.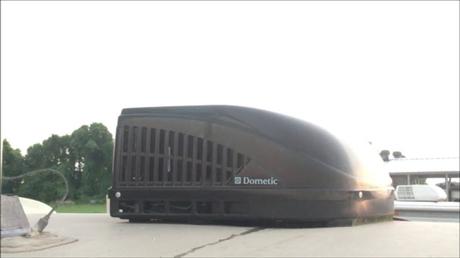 If you don't know how to check whether various components of your unit are in good shape, you can also hire an expert RV AC technician once every year to inspect it.
Be sure to do all the necessary repairs and fix any parts as soon as you discover them.
6. Replace the old AC with a new model
Ever heard that the older the air conditioner gets, the louder (noisier) it becomes?
Unfortunately, this is true!
If you a pretty aged unit and no matter how many times you repair and fix it doesn't cut down its noise, perhaps your only option is to replace it with a new one.
The BEST part about racing your old model is that you'll get the chance to buy the latest models that come armed with the latest technology to enable them to operate super-quietly.
But don't always believe what the manufacturers say about the noise level of an AC. We always recommend going through various RV air conditioner reviews to help ensure you make the best decision.
Wrap Up
If the noise from your RV air conditioner has become too much, it's time to cut it down for good and restore serenity in your recreational vehicle.
All the possible solutions for RV AC noise we have outlined above are easy to fix and you can do them on your own. We suggest that you start by trying simple solutions to see if the problem goes away. If they don't seem to help, you can move on to more technical fixes.
In case of an older AC that just doesn't stop making noise no matter how many repairs you have done to it, the best thing you can do is replace it with a new, quieter model.