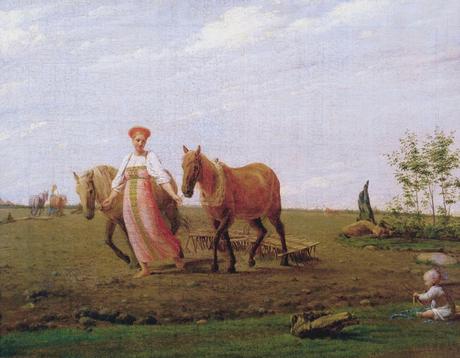 Spring Plowing: Alexsey Venetsianov, 1820s
Pyotr Ilyich Tchaikovsky, despite or because of the widespread popularity of much of his music, has often been regarded as a composer of more passion than profundity. I confess that I've even wondered from time to time whether my own regard for him wasn't at least partly the result of really, really good emotional manipulation via
the seductions of Swan Lake
etc. The Mariinsky Orchestra is currently performing a series of concerts at Carnegie Hall, bringing a powerful reminder of Tchaikovsky's skill and creativity with the symphonic form. In Monday night's concert, the pairing of the third and fourth symphonies provided a fascinating journey through the many moods of Romanticism.
"I am now composing a new symphony, but am taking it steadily, not spending all my time on it, and taking long walks." --Tchaikovsky in a letter to friends, summer of 1875
In the first half of the concert, the third symphony charmed with a robust, Romantic pastoralism. Although the symphony is sometimes known as the "Polish," the adopted dance forms of its five movements evoked a robust rusticity which (however artificially constructed) did not have the specific national connotations which that title suggests (see
this article
by R.S. Edgecombe for more context on the use of dance forms such as the waltz in the Romantic symphony.) Thanks to the musicians of the Mariinksy, this seemed full-blooded rather than merely quaint. The dark-hued strings evoked fields ripe for the harvest, and the well-handled woodwind solos the dancing with which the harvest was celebrated. The romanticism I always associate with Tchaikovsky was indeed present, but in the exuberant celebration of nature and those who lived close to it, worlds away from
Sturm und Drang.
The tempest was to come.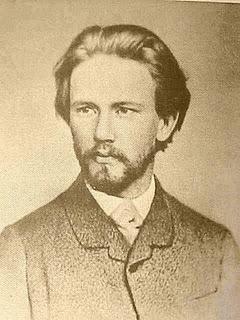 I know Tchaikovsky's fourth symphony better than his third, but I was soon jolted out of my illusion that I knew what to expect from the performance. I swear there is something feral about the timbre of the Mariinsky brass section. They brought the audience to attention, and the first shivering chords from the strings informed us that there were emotional worlds yet to be discovered. Gergiev's treatment of tempi was free, with an urgency to the lilting phrases of the second movement, as well as moments of more introspective rubato. The demanding
pizzicato ostinato
was handled by the strings not only with skill, but with relish. The dramatic momentum of the symphony as a whole was intensified, rather than lessened, by the emphasis placed by Gergiev on the tensions within it. It may sound like a paradox, but the light touch of the Mariinsky orchestra seemed to bring out the deep complexities of Tchaikovsky's score, for an emotional experience that was anything but trivial. In response to the sustained audience applause, Gergiev led the game musicians of the orchestra in the
trepak
from "The Nutcracker." This was greeted with appreciative, affectionate laughter; the vigorous, spirited rendition given was a welcome dose of optimism after the preceding peering into abysses... and another warning against complacency.