Historically, relations between the Soviet Union (of which Russia was a 'successor state') and Norway were at times more than cold. Territorial and environmental disputes, as well as a high-profile treason case all contributed to an uncooperative relationship. Tensions meant that the Soviet Union and Norway generally kept a distance.
Whilst there are still longstanding issues today, many of the issues inhibiting cooperation and a closer relationship have been resolved.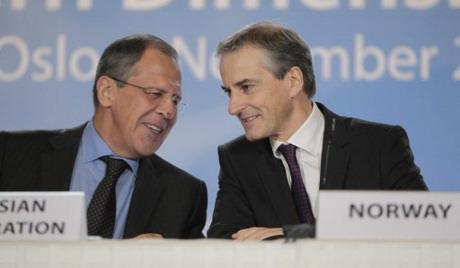 Foreign ministers Sergey Lavrov (L) of Russia and Jonas Gahr Store (R) of Norway
As Political Deficit has stated on more than one occasion (1, 2, etc.) , Putin and Russia are not uncompromising ideologues as they are at times painted to be – but firm pragmatists (or realists in IR terms). As Mark Adomanis of Forbes said:
Putin cares about the bottom line … if you look at how he's actually conducted foreign policy it's surprisingly defensive and reactive. More than that, he's actually been pretty effective.
In short, modern Russian relations should be good with Norway as long as Norway doesn't threaten Russian power – economic or otherwise. This works as a theory, and in real life.
In 2006, Norway was said to want an equidistant border between the two countries – following a 'median line principle'. This was its stance since at least the 1970s, something that fell on deaf ears with the Soviets. Finally, in April 2010, a deal was made following over four decades of disagreement. Lavrov remarked that the treaty:
opens way for broader cooperation of our countries in the energy sphere. Besides oil and gas searching, now, there will be possibilities of cooperation in other spheres, including navigation and transport."
United Press International reported that Putin would personally prefer Norwegian companies to other companies to work in Russia. This marks a positive view of Norway within Russia as a professional and wealthy country to do business with. The Russian military is also keen to partake in exercises with its Norwegian counterpart – something unthinkable a few decades ago.