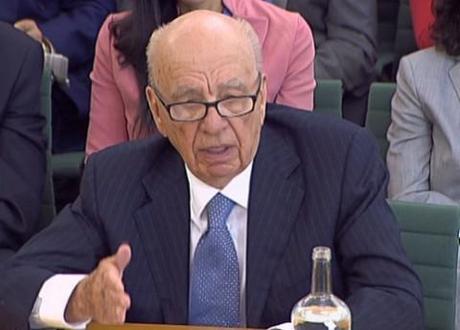 Rupert Murdoch answering a question at the culture select committee hearing, July 19, 2011. Photo credit: Ben Terrett
During a three-hour grilling at the culture select committee, disrupted by a protester throwing a plate of shaving foam,
News Corp
chairman Rupert Murdoch said it was the "most humble day of my life," yet defiantly insisted "I am not responsible" for phone hacking, which he termed "sickening and horrible invasions" of privacy. Flanked by his son James Murdoch, he claimed he had been betrayed by unidentified colleagues and had known nothing of the cover-up of phone hacking.
Commentators have feasted on the father-and-son show. Most concur that the Murdochs stuck reasonably successfully to a plan which saw James babble on in an effort to run down the clock and shield the more volatile Rupert from tough questioning.
In one flash of anger, Rupert Murdoch complained his competitors had "caught us with dirty hands and created hysteria." The outburst echoed a recent bullish editorial in Murdoch's Wall Street Journal, which accused The Guardian and BBC of pursuing "commercial and ideological motives" in their coverage of the phone hacking scandal.
The physical assault on Murdoch came near the end of the session when Jonathan May-Bowles, a participant in UK Uncut events, attempted to shove a (shaving) foam pie into Rupert Murdoch's face. His efforts were foiled by Murdoch's wife Wendi Deng who leapt up from her seat to hit the assailant. Moments before launching the alleged attack, May-Bowles used Twitter to announce: "It is a far better thing that I do now than I have ever done before #splat."

Master class in crisis management. "For connoisseurs of management, and moguls in particular, though, the proceedings offered a master class in crisis management. James Murdoch was good, if a little reedy, wordy and over-drilled by his lawyers. He did all the necessary blocking and tackling to get through a tricky afternoon. His father, though, was magnificent, initially as terse as an outback farmer, but slowly unveiling the lethal charm even his rivals describe as mesmeric," purred Philip Delves Broughton at The Financial Times. "He may have been spinning, but it didn't sound that way. He made clear that he understood the gravity of the situation and the need to rectify it. But at times he showed all the interest of Caesar being grilled about some long-forgotten incident in the Londinium aqueduct authority." "The MPs did their best to challenge him, but they were up against a man who has built his company over 57 years, who employs 52,000 people around the world, who broke the British print unions, barged into US network television, and gave us Titanic and Avatar," reminded Delves Broughton. "When asked at the end of the hearing why he hadn't resigned, he answered: 'Frankly, I'm the best person to clear this up.' It comes late, but given all that he has seen and done in his life, it is hard to disagree with him."
"In a halting performance, at times pausing, mumbling and mishearing, Murdoch said those culpable were 'the people I hired and trusted, and perhaps then people who they hired and trusted.' But he denied the accusation he had been 'willfully blind' about the scandal," observed Guardian Political Editor Patrick Wintour.
"What the f__k does Rupert Murdoch do all day?" wondered Gawker. "To judge by his baffling performance before a British parliamentary committee investigating him for phone hacking, little more than gossip on the phone with whatever old-timer is willing to indulge him while his son James and wife Wendi battle for control of News Corporation." "In the face of frustratingly genteel and polite inquiries, Murdoch repeatedly lost his train of thought, mumbled, failed to comprehend questions, and wandered on embarrassing tangents," sniped Gawker. "Rupert's confusion would be understandable if you'd just shaken him from a nap and begun grilling him. But this was arguably the most important showdown of his career, one for which he'd had a week to prepare with the most expensive counsel money can buy. It will be very hard, going forward, for his critics to paint him as a power-mad Machiavelli working his global empire like a malevolent pump organ. Though maybe that was the idea."
'Spineless' MP's 'banal' questioning. "These dripping wet inquisitors achieved the impossible feat of making us feel sorry for Rupert Murdoch," lamented Max Hastings at The Daily Mail. "The MPs asking the questions revealed themselves, almost without exception, as spineless invertebrates." "The most electrifying moments of the Murdochs' appearance came at the outset, when Labour MP Tom Watson asked a series of quiet, deadly questions about their company's conduct which seemed to paralyse Rupert. Looking every day of his 80 years, he paused interminably before responding hesitantly and monosyllabically. One could sense News Corporation's stock sliding, as shocked shareholders responded to the spectacle of the weary old man, who professes to manage a vast company, banging his hand on the table to emphasise the fact that since the News of the World constituted less than 1 per cent of his empire, he could scarcely be expected to notice how much ink it was using every week. But then drama ebbed away as repeated banal questions prompted ever more banal responses from James Murdoch, every inch the American corporate executive, who addressed MPs in that impenetrable language, management-speak. He used words such as 'paradigm', 'materiality' and 'quantum' until one could sense the world TV audience slipping away to its tea. He successfully bored us into submission."
Get more on phone hacking

Murdochs and Brooks face the music at culture select committee hearing
Phone hacking storm gathers pace: Rebekah Brooks arrested, Paul Stephenson resigns
Brooks (finally) resigns
Hackgate scandal spreads to US
News Corp pulls plug on BSkyB deal
Axed News of the World staffers hit Brooks with parting shot via final edition crossword
Hugh Grant turns the tables on The News of the World