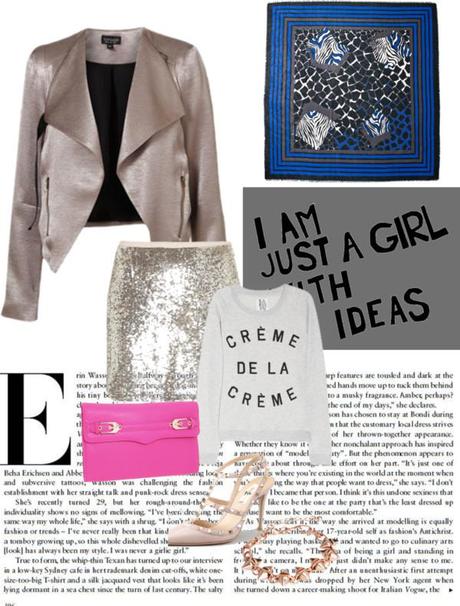 shoes, skirt, top, jacket ( also made an appearance here) , bag, scarf, bracelet
I'm OVER THE MOON excited!
I am going to a RUNWAY SHOW of one of my favorite designers from this style/caliber.
More so.
We are having brunch with the designer and a creative team.
It took some sleep of my nights in the last few days.
I've been tossing and turning over what to wear to look casual enough yet on-top-of it enough.
I want the "really-no-big-deal" (

because I know every one else that's coming thinks that

)  casual but a very trendy look.
This is the idea number one. I'll accessorize more, this is just the basic canvas. Considering the deep color tones that are a trend for fall ( blue and jade are huge), but with it still being summer I'm thinking of combining both over a neutral pallet. ( remember here ? you can't go wrong with neutral. or this one is a great example too.)
WHAT DO YOU THINK?