She's a demorat in California, that's all the qualifications she needs to be elected in that state.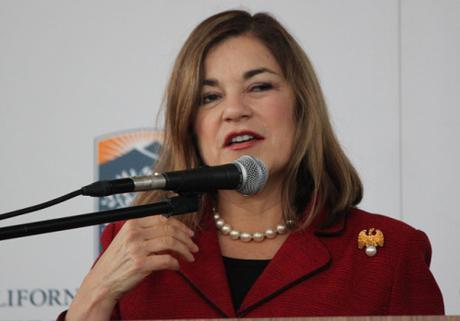 Loretta Sanchez
From Sacramento Bee: California U.S. Rep. Loretta Sanchez, who points to expertise in homeland security issues as a reason for Californians to elect her to the U.S. Senate this fall, has missed more than half the hearings of the House Committee on Homeland Security since she first joined the influential panel 13 years ago.
She's far from the only one. It's not uncommon for members of Congress, who may have conflicting meetings or other responsibilities, to miss committee meetings, and there are many with worse records than Sanchez.
But Sanchez has ranked particularly low in attendance in recent years: Last year, she ranked 28th out of 30 committee members after missing seven of the nine full committee hearings for which the Government Publishing Office has transcripts.
She also missed nearly all 2015 meetings of the Subcommittees on Border and Maritime Security and on Cybersecurity, Infrastructure Protection and Security Technologies, according to the available official transcripts.
Sanchez announced in May of last year that she is running for the Senate to replace the retiring Barbara Boxer – so, not surprisingly, Sanchez spent time in California working on her campaign effort.
But she also missed the bulk of the meetings in 2013 and 2014, including most held by the subcommittees on border security and Counterterrorism and Intelligence.
Sanchez attended nine of the 22 full committee hearings those years, placing her near the bottom in attendance. Among the hearings she missed were "Worldwide Threats to the Homeland" and "The Rising Terrorist Threat and the Unfulfilled 9/11 Recommendations."
Sanchez joined the Homeland Security Committee in 2003 and has attended 44 percent of the hearings since then, according to a McClatchy analysis of the full-committee hearings for which there are official transcripts released by the Government Publishing Office.
Her attendance record is far from the worst – Republican U.S. Rep. Bill Young of Florida, for example, didn't show up for a single hearing during his two years on the committee – but it's below the 55 percent average for members of the committee dating in 2003.
Sanchez has campaigned on her position as the most senior female member of the Homeland Security Committee, saying she "has emerged as an expert on intelligence and counterterrorism issues."
Sanchez is also a senior member of the Armed Services Committee, where she is on a pair of subcommittees and is particularly known for her work combating military sexual assault and expanding women's combat roles. The Armed Services Committee transcripts don't indicate how many of the meetings Sanchez and other members attended.
Sanchez spokesman Luis Vizcaino said attending hearings was one aspect of her role on both committees, along with subcommittee work, briefings and congressional trips to volatile regions of the globe. "She is known and respected in Congress and the Pentagon for her expertise on military readiness and counterterrorism," Vizcaino said in a statement.
"Her work ethic, commitment to her committee role and 20 years of experience on national security issues has provided her with a strong foundation of in-depth knowledge and expertise. Rep. Sanchez is always speaking with leaders and experts to get the information and intelligence needed to make the best decision for the security of this nation," Vizcaino said.
Read the whole story here.
DCG