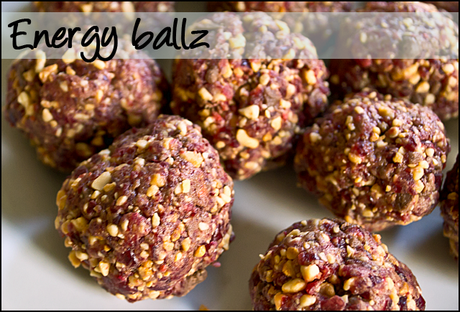 The Boston Marathon was this past Monday and I'm so amazed with all the runners (including
Kate
!) who kicked major butt in 90 degree temps (totally insane!). It's just so inspiring to see all those people do something so extraordinary and I'm more determined than ever to run Boston next year.
But for now, I'm busy training for a half marathon in Hyannis at the end of May. I have a semi-crazy time goal in mind (more on that soon), which means I'm pushing myself extra hard and THAT means I need more food. 
These little energy ballz are my new favorite post-run snack (washed down with chocolate milk, naturally). They're ridiculously easy to make, super portable, and delicious. It's basically trail mix ingredients thrown in a food processor and rolled into balls. (And by basically I mean literally.)
Ingredients*
1 cup mixed nuts (or just peanuts!)
1 cup dried fruit (I like to use a mixed blend)
1 cup chocolate 
Directions
Throw all ingredients in a food processor. Process. 
Roll into small ballz. (About the size of those bouncy balls you played with as a kid.)
Put in the fridge to harden -- or just eat.
*Feel free to experiment with the ingredients! I think coconut would be extra delish here.