Most of the reason my blog posts have been so sporadic over the past year or two, is that I was without a proper working computer. My laptops always break on me and I went almost all of 2014 without access to a computer at all. It gets kind of lonely with just an iPhone, sometimes. Recently, my loving boyfriend bought us a new computer. At first I sat and stared at the screen thinking "what do I do now?" and, after browsing the typical few sites I'd regularly look at on my phone, it occurred to me. Music! I haven't been able to update the music on my phone in over a year, let alone download new music, let alone make a playlist (something I used to enjoy quite a bit).
It's kind of overwhelming when you all of the sudden have access to almost any music you'd like, and I did not know where to begin. Rather than trying to rack my brain, or spend time I simply don't have perusing the Internet, I decided to visit my friend Madison's blog.
Wolfwizard Radio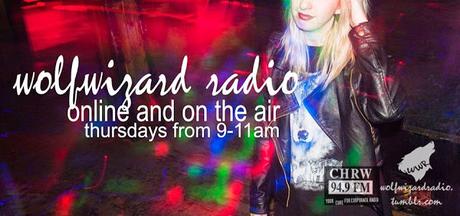 Okay, so especially since I recently became a mother, I just straight up don't have time to stay in the loop with the cool jams. I don't listen to popular music, I've been listening to the Guardians of the Galaxy soundtrack for 3 months and the last 5 videos in my YouTube history are Bob Seger. I used to listen to a wider variety of music, I also used to go to a lot of local shows. These days, I'm just grateful to have cool friends that are in the know, who I can go to for guidance on what to listen to in (Summer) 2015. It is so convenient to be able to go to one website and get all the information I need quickly and easily. I trust my girl Madi's taste in music, so a lot of the times I will download bands she recommends even if I've never heard of them. 9/10 times she nails it. One of her favorite musicians is Kate Bush, what more do you need to know?
If you live in London, Ontario, you will especially appreciate her selection, as she tries to include as much local music as possible. Well, the good stuff. Chances are if you're a band in the city, and you're not half-bad, she will play you- or has played you. I strongly suggest talking to her about "trading press" because if she likes you, aside from promoting you on her blog she can also play you on the radio! Wolfwizard Radio is every Thursday morning from 9-11AM on CHRW 94.9fm (or online at
chrwradio.ca
).
And finally, here is what I've decided to download after spending an hour on WWR's Tumblr:
Unknown Mortal Orchestra
Yukon Blonde
new Death from Above 1979
Ariel Pink
Courtney Barnett
new Sleater-Kinney
Speedy Oritz
Wasted Youth
Caribou
Dilly Dally
Leggy
Waxahatchee
So excited to finally have some good new music! Just in time for the summer. Thank you Madison for being a super cool lady.
Wolfwizard Radio on Facebook