HOLLYWOOD—The talk of Hollywood this past weekend was the guessing game of whether or not Axl Rose and Lana Del Rey were the new "it" couple? They were spotted leaving the Chateau Marmont together, which raised eyebrows and prompted rumors that they were dating. Axl Rose, 50, (who is old enough to be her father) was seen walking steps behind Del Rey, 25. Time will tell if they are an item. However, the band's guitarist tells TMZ.com that Rose and Del Rey are just friends. Del Rey, whose new album "Born to Die," captivates her sultry voice, could be truly just a friend and a die-hard fan, without romantic interest. By the end of 2011 she managed to take the music world by storm by belting out "Blue Jeans" and "Video Games."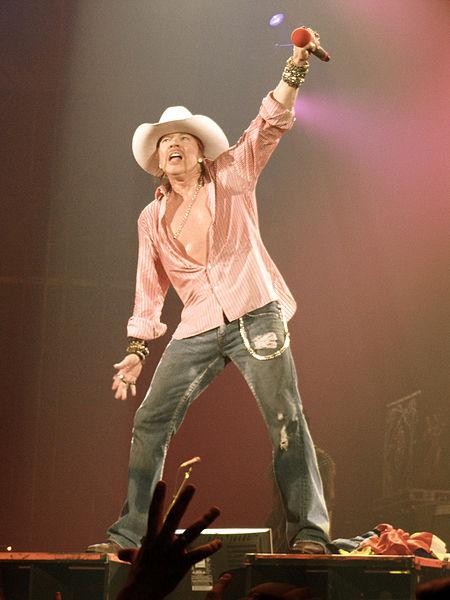 Photo Courtesy of: Facebook
She has attended two separate back-to-back Guns N' Roses concerts in LA, and recorded back in the day the song "Axl Rose Husband," when she went by her real name Lizzy Grant. This could be something interesting to see what transpires from perhaps a longtime crush on a rock 'n' roll idol.
Another "it" couple is Kim Kardashian and Kanye West, who are still going strong according to RadarOnline.com. The website is reporting that West will even tune in to watch the upcoming season of "Keeping Up With the Kardashians." I hope Kanye is ready for an hour to sit and watch since starting May 20, the half-hour reality show is being bumped up to an hour for the season. We will have to wait and see if this works with the ratings and the 72-day wedding fiasco. According to reports, word has leaked out that cameras have been recording both Kim and Kanye. People seem to be interested in the family, with pregnant Kourtney; Khloe, who moved to Dallas when her husband Lamar Odom, was traded to the Mavericks (and now is moving back to LA, according to the 

New York Post

). Talk about drama in the life of Lamar Odom! There is definitely a lot of pressure and it looks like The Mavericks and Lamar have parted ways and he has been put on the inactive list until after the playoffs, when the Mavericks can trade him off,

Page Six

 reports. Between family woes, the car accident , the reality show "Khloe and Lamar," it was just too much for anyone to handle.


Meanwhile, a funny reality show "Mama's Boys of the Bronx," premiered on TLC on April 9, making everyone fall to their knees laughing. The show is quite unique about a group of men in their 30's who enjoy living at home with their mothers. The men are Anthony, Frankie, Giovanni, Chip and Peter. In the second episode, Peter got engaged to his girlfriend of four years. They are like five-year-olds counting on their mothers for everything from washing their clothes to making them dinners. They grew up together in the Bronx on Arthur Avenue. The show is hilarious. While some people might say it's pathetic, the only other show they would need to follow-up with would be "Grandma's Boys."




Rose's Scoop: Alleged Alec Baldwin stalker Genevieve Sabourin, 40, was arrested on April 9 after she went bonkers after the news broke of the engagement of "30 Rock"star to yoga instructor Hilaria Thomas. You gotta love him!