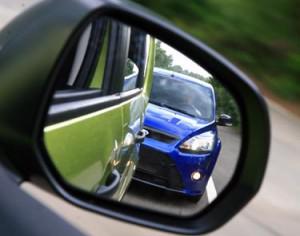 The true value of windshield washer fluid, I've found, is much greater than the $2.49 price tag slapped on the side of the jug at your local Amoco. Not only can this cleaner be used to clear the average lightning bug goo from your eye line, but it's also an extremely useful feature of any good Asshole Security System (A.S.S. for short).
Got one of those pesky business assholes riding your tail? Is he so close that you can't even see the BMW logo on the front of his grill? Well fire up the wipers, let the bug wash fly, and watch the steam shoot out of his ears. Maybe next time he'll reconsider attaching himself to your rear bumper…
…and think twice before buying another convertible.