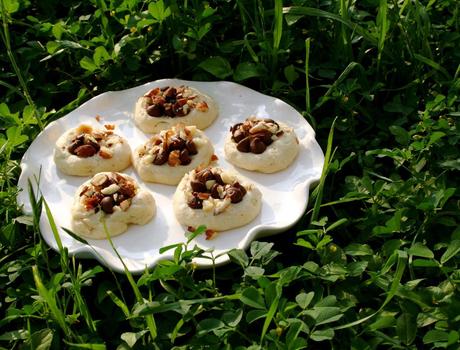 This is a happy post. I promise.


Sometimes I feel bad about "unloading" my emotions here. But I think it's important to not let dark days remain hidden. Grief and fear become more powerful when you try to cloak them with feigned

joy.


But the good news is that I am really happy today.




I'm thinking about wedding cakes and key lime tarts.




I'm planning our trip to Paris and allotting days

for hikes in Colorado.


Margot and Cricket have become fast friends, and we're spending our evenings watching them wrestle on our living room rug.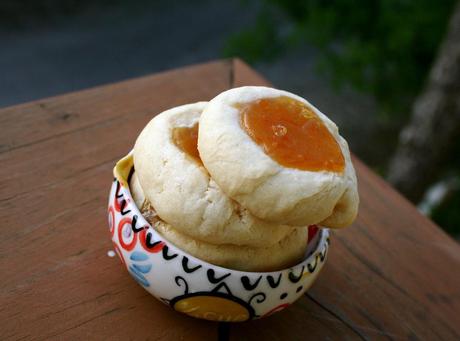 And I'm baking more.
These cream cheese cookies were inspired by that classic Jewish pastry, rugelach.  Traditionally, rugelach is made in the form of a crescent by rolling a triangle of dough around a filling. But I didn't have time to roll on Monday  night, so I placed rounded tablespoons of dough on my cookie sheet and dropped the filling on top.


A whole lot easier and just as delicious.




But if you want the real deal (and you just might because they look just as good as they taste), Bill from Los Bagels has generously offered up three rugelach gift boxes If selected, one dozen freshly made rugelach will arrive at your door. And believe me, the folks at Los Bagels don't mess around. Their bagels and sweet treats have people lining out the door!




In order to be eligible for the giveaway, leave a comment below telling me what bagel you'd order at Los Bagels




You can post an additional entry if you like me on facebook.




One more if you follow me on twitter.


The giveaway will end on

Friday, March 23rd at 12:00pm

.
There will be

THREE WINNERS!

How exciting!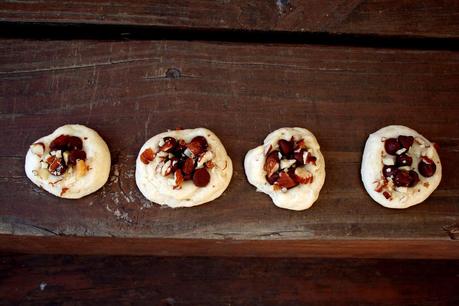 Rugelach Cookies


1/2 cup of unsalted butter
4 oz of cream cheese
1/4 of granulated sugar
1/4 tsp salt
1 whole egg plus 1 egg yolk
1 and 1/4 cup of all-purpose flour, plus more for dusting
1/2 cup chocolate chips


1/2 cup chopped walnuts or almonds




1/4 cup apricot preserves


1. Beat the butter and cream cheese in the bowl of a stand mixer until light and smooth.
2. Add the sugar and salt, mix until combined.
3. Add the egg and egg yolk and mix until combined
4. Stir in the flour. Form the dough into a flattened disc, wrap in cling film or slip into a resealable bag and chill for several hours until firm. Note: the dough will feel very sticky and wet.
5. Preheat the oven to 325 degrees Fahrenheit.  Form heaping tablespoons of dough into round balls, place on a parchment-lined baking sheet, and indent with thumb. Sprinkle chips and nuts in crater OR drop 1/2 teaspoon of apricot jam in center.


6. Bake for 15 minutes or until just lightly golden.

Allow to cool


Always,




Monet




Anecdotes and Apple Cores