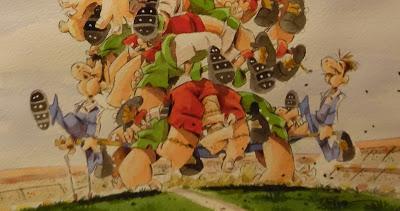 (A section of my latest watercolour painting 'Injury Time')
Something I've been producing in the background, and extra to the Laugh Lines, Castle Comics, the comic strip packages for the US syndicates, the Sleepy Hamlet Novels; Big Ol' Bear children's books and all manner of other things, are these sporting prints.
Some of you will remember a tutorial I did a few weeks back where I described the process of a watercolour cartoon painting.
Well further to that picture and extra to the two others I produced on the same rugby theme, I have created another; this one is titled 'Injury Time' and will, like all of the others, be available as prints very soon from my store.
The reason for the paintings is that an art gallery kindly asked me to produce some cartoons for the Rugby world cup later on this month to bring attention to their shop and my art.
I gladly accepted the offer and got to work. When the gallery posted samples of my first painting, titled 'the Friendly' (the subject of the above mentioned tutorial) they had over 4'000 likes, which was a fantastic response.
I am now looking to be contacting various rugby clubs and possibly the national side to see if I can produce calenders for their fans. I will also be producing the initial set as greeting cards, more of which I will tell you as and when they get posted.
I will not be limiting my paintings to just rugby. I will be looking to producing Rallying, Fishing, Golf and humorous DIY, pubs and an exciting project I really can't wait to start which will be all about the British eccentricities; more of which I will let you know about at a later date.
But for now I will leave you with a photo of the full image of 'Injury Time'
Cheers for now