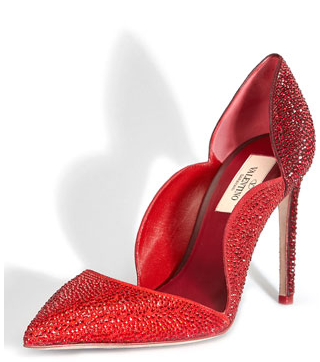 If you've ever wished you could click the heels of your ruby slippers and end up someplace magical you'll be pleased to know the wonderful wizards of fashion have made it possible this season. 
If last winter's game changing footwear was the blue sued single soled pump than this year's contender might possibly be the show stopping red pump/sandal/booties/flat etc etc...
Yep that's right, red shoes, not just for Dorothy any more,  I have spotted them all over the net and in every store this fall. 
If you're looking for some shopping inspiration look no further. Below I have curated a collection of red shoes just as on-trend and spectacular as the Valentino rhinestone pumps above!
1. The Suede Pump: If you're new to the red shoe game I suggest picking up something in suede since its matte and not too shiny or sparkly, which means it wont attract TOO much attention.  But lets face it, red shoes always attract attention, that's why we love them right? 
Charlotte Olympia Suede Pumps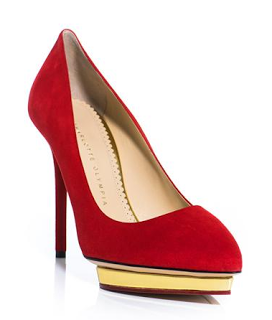 2. The Multi- Colored Sandal: It's a good way to ease yourself into wearing red shoes. There is not TOO much red happening with these sandals, but just the right pop of the trendy color.
Jimmy Choo Sandals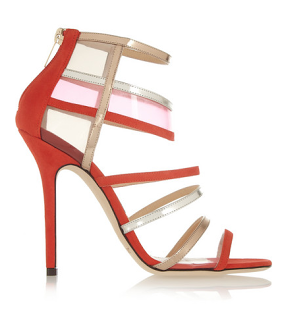 3. Perforated: Perforated EVERYTHING is so having a moment right now. I cannot tell you how much perforated leather and suede I witnessed during fashion week for Spring/Summer 2014. Its definitely a trend you'll be seeing a lot more of, so why not get your hands on some right now? 
Manolo Blahnik Perforated Suede Pump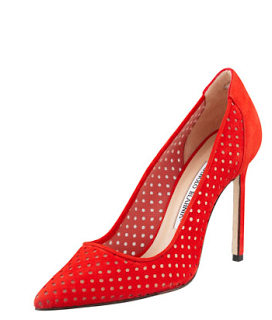 4. The Work Pump: Work appropriate shoes don't have to be boring. I have gone thought this before, there is nothing wrong with wearing a pair of game changers to the office. 
DVF Pump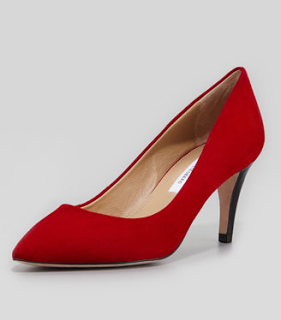 5. Affordable But Cute: Everyone should have shoes in their closet that can be worn without the fear that ruining them will cause mental break down. Not to say that shoes which cost under $500 are "cheap" or undesirable, but they are an easy addition to your wardrobe and leave money in your pocket for other shopping trips. 
Le Chateau Suede Pointy Toe Pump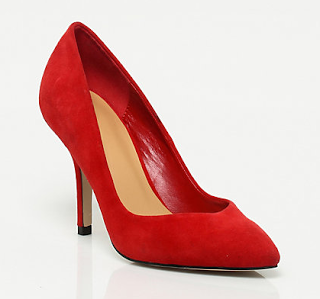 6. Embrace Collaborations: I'm really loving designer collaborations this year. Aldo Rise and Aldo x Preen is a really great example of a designer collaboration that anyone can fall for. My favorite piece from the collection is this red booty. 
Aldo Rise X Preen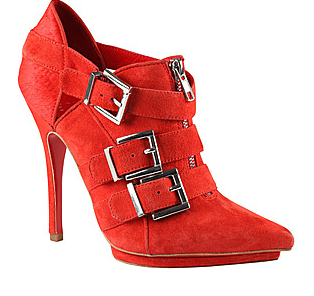 7.
The Everyday Flat: I don't like to encourage cowardliness, but just in case you're a bit shy and don't want to try a sky high pair of red pumps you can start off easy with a cutesy pair of flats. 
Rapetto Patent Leather Ballet Flats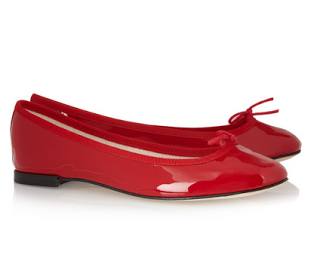 So what do you think, will you be adopting the red shoe trend this winter? Do you have any of your own picks? 
Shop more RED SHOES here...
Christian Louboutin Pumps · Zigi Boots · Jessica Simpson Pumps