Our Journey…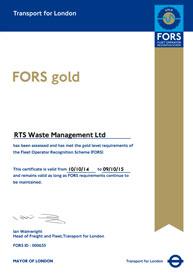 RTS Waste Management is a family owned and run organisation with our main base located in London SE16 and strategically based to serve most areas of London and the South East.
RTS manage all forms of waste from a bag collection service to major multi-national multi-site projects. RTS has gained significant saving in a number of areas as well as winning new business because of our cherished membership.
A FORS To Be Recognised
In the early days of FORS RTS took the conscious decision to review its standards and elected to actively raise the bar and move away from the norm. Within a short period, RTS became a FORS Bronze member with the low number 635. FORS quickly gained momentum and RTS moved with this progression retaining a FORS Practitioner to ensure the business moved forward.
RTS experience from the first Bronze assessment was one of procedures and monitoring and whilst we passed our first and second audits, we strive to do better, by applying FORS principles and practices throughout the business.
RTS are proud of its achievements through FORS accreditation utilising the almost magical set of tools provided as well as driver CPC training all delivered as a FORS funded package as part of our membership, what other membership provides these exclusive benefits?
Reaping The Benefits
Having moved to Silver it was apparent that we had passed a significant milestone, not just from our progression but the extremely informative guidance and useful from the team within FORS.
Improvements to the business have evolved over time and more specifically our insurance premium reduced in one year by a massive 73.9% achieving a saving of £136,000.
Vulnerable road users have also been a key factor in our decision-making, RTS now have a minimum of 4 cameras on permanent record mode which have cleared the business from blame when involved in minor accidents, helping us to avoid high premiums, we also use these videos as a training tool. Nearside object scanners are also fitted, as are side protection bars and audible awareness.
For a very small monthly increase over our prior supplier we now have a full telematics system on board all vehicles, this allows us to view and report MPG, Co2, and much more including driver behaviour, it's as if the Transport Manager is sitting alongside the driver.
Relevant sites you may find interesting: