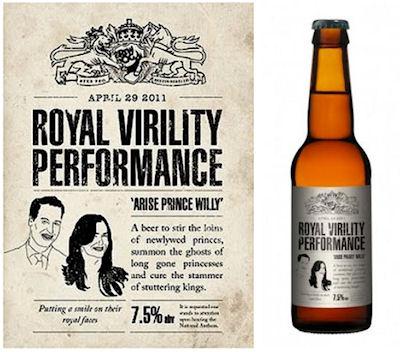 A Viagra-laced beer is launched to toast the upcoming nuptials of William and Kate. The Royal Virility Performance is a limited edition artisanal brew made with various well-known aphrodisiacs in honor of Prince William's upcoming nuptials to Kate Middleton.
According to the specially commissioned label, the
Royal Virility Performance beer
contains Pfizer's magic blue pill, chocolate, Horny Goat Weed and 'a healthy dose of sarcasm.' The beer is a 7.5% ABV India Pale Ale and has been created at BrewDog's brewery in Fraserburgh, United Kingdom.
(via Nag on the Lake)
The Presurfer