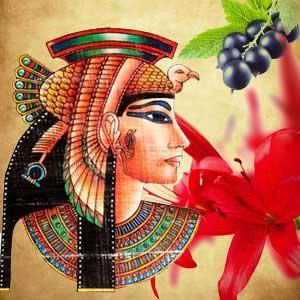 Queen of the Nile Fragrance Oil- Fragrance Oil Spotlight
Cleopatra who was the Queen of the Nile, was the last acting pharaoh of ancient Egypt.  She was very powerful and knew exactly what she desired.  She had many conquests that included the most powerful of men, such as Caesar and Marc Antony who could not escape her sexual and aesthetic appeal.  But it wasn't just them, her subjects were also awed with her immaculate beauty.    Queen of the Nile Fragrance Oil holds true to the alluring Cleopatra.  This exotic and royal scent is so lovely that the attraction is effortless before you too are conquered.  And when it comes to this royal scent in homemade products, it is by far one of NG's favorite feminine fragrances.
What does Queen of the Nile Fragrance Oil smell like? Exotic and fragrant, this fragrance oil by Natures Garden is a glorious night blooming lily which exudes notes of a sensuous floral musk paired with cassis and ripe berries.
How do our customers use Queen of the Nile Fragrance Oil? For all of you candle crafters out there; Queen of the Nile Fragrance Oil is used in Soy, soy blends, paraffin, WOW, Joy, and Pillar of Bliss waxes.  This royal scent is very aromatic and has fabulous hot and cold scent throw.  But, it doesn't stop there!  Queen of the Nile fragrance oil also works very well for room fresheners; whether it is oil burners, smelly jellies, or sachet beads. For bath and body end of things, this royal scent is a dominating!  The usage rate for this fragrance oil is 5% and does contain a .68% vanillin content.  However, our testing of this fragrance showed no discoloration in soap; therefore use your own discretion as to whether or not to add Vanilla White Color Stabilizer. This amazing and feminine fragrance is used to scent: solid lotion bars, bath bombs, body sprays, spray lotions, perfumes, melt and pour soaps, body scrubs, bath gels, whipped body butters, and salt bars.  Finally, for those of you that are cold process soapers, this fragrance is awesome.  Here are the official results:Very slight acceleration.  No separation.  A good scent, pretty and feminine.  No discoloration.

If you are interested in a Natures Garden recipe using this royal scent, please click on this link to view the Cleopatra Heavy Cream Cold Process Soap Recipe.