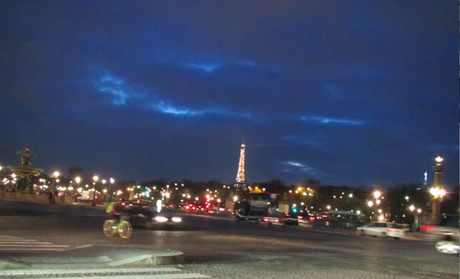 Marie-Antoinette and her husband King Louis XVI (which as a child I thought was pronounce Ex-Vee-Eye) were beheaded in Place de la Concorde, which was then called Place de la Révolution. Louis was executed on the 21st of January 1793,  Marie-Antoinette on the 16th of October of the same year.
It's a place that has seen a lot of history, from popular balls after the success of the American Revolution to Hitler's lightning visit  after the Germans took it in World War II.
Every year on the 21st of January the royalists of France (si, si, there are still plenty) get together to commemorate the death of the King. 
Torch parade in homage to Louis XVI, 23 January 2011. If you wait till the end, you can hear them shouting "Vive le roi!"