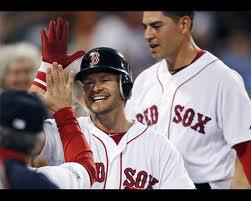 Cody Ross was boss on Wednesday night.
The Rodeo Clown belted two three-run shots onto Lansdowne Street to give the Red Sox a 10-1 win over the White Sox. Ross hit another booming shot that I thought from the camera angle might be home run #3, but it went just halfway up the Monster. Ross went 3-for-5 with 6 RBI and scored three runs.
It was also a big night for Adrian Gonzalez, who hit another shot into the Monster seats and had three hits, and for Jacoby Ellsbury, who also had three hits and scored three times.
Felix Doubront allowed a first inning run to Chicago, and I thought to myself, "Here we go again giving up first inning runs." But the Red Sox matched it in the bottom of the inning on Gonzo's RBI single. Doubront went six innings, allowing just that one run. The bullpen combo of Matt Albers, Mark Melancon and Andrew Miller retired all nine hitters they faced.
David Ortiz was placed on the DL today with the heel injury, and could be reactivated on August 1st if all goes well. Mauro Gomez came back from Pawtucket and was the DH on Wednesday night.
The Sox are now one game back in the Wild Card race.