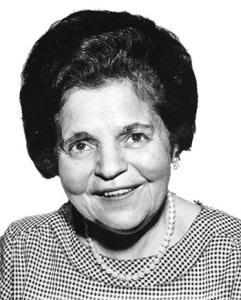 The following is by Dick Kazan from his site http://www.kazantoday.com
The author is successful business, real estate, and media entrepreneur Dick Kazan.
Published on Tue Dec 13, 2005
Today, I'd like to tell you the remarkable story of Rose Blumkin, a Russian immigrant who never spent a day in school, arrived penniless and built the largest home furnishings store in the United States.
Blumkin was born to poverty in 1893. Her father was a Rabbi with little income and her mother worked long hours running a small grocery store to support the family of eight children. At the age of six, tiny Rose began working in the store to help her.
At 20, Rose married Isadore Blumkin, who was also poor. So they could have a better life, he went to the U.S. to get a start but before she could join him, World War 1 broke out and it would be three years before the couple could reunite.
In 1919, they settled in Omaha and struggled to get by. He ran a secondhand-clothing store and a pawnshop. Rose helped him with the clothing store and to supplement their modest income she used her basement to sell furniture. They learned English from their four children.
Rose knew first hand the difficult circumstances the vast number of poor and struggling people of the 1930's endured and saw a business opportunity. Despite the Great Depression, she acted.
In 1937 Blumkin was nearly 44 years old but she borrowed $500 from her brother and opened a store in the basement of her husband's shop. She called it the Nebraska Furniture Mart and her motto was, "Sell cheap, tell the truth, don't cheat nobody."
Blumkin's business grew by offering merchandise at rock bottom prices. At times when she didn't have enough inventory, she hauled her family's own furniture into the store and sold it.
Her big competitors deeply resented her undercutting their prices and pressured manufacturers not to sell to her. This didn't stop Mrs. B as she came to be called. She'd visit distant retailers and buy their excess inventories at sharply reduced prices, sometimes for pennies on the dollar.
As her store kept growing, Mrs. B, applied to the banks for credit but banks scoffed at her as an illiterate immigrant. She resented these "big shots" treating her this way as she had to operate from cash generated from selling her merchandise and from credit she got from her suppliers.
Despite this lack of liquidity, by working seven days a week, 10 hours a day, selling a high volume of furniture at very low prices, Mrs. B built her store into a success.
Something else also made it successful. Sometimes when a family needed furniture and didn't have enough money, rather then let them leave disappointed, Mrs. B quietly cut the price for them. This was a nice thing to do but it was also wise of her because it built repeat trade as that family would return time and again and her business grew.
But in 1951 Mrs. B's store suddenly hit the wall.
This happens to many fast growing businesses because cash may not come in quickly enough to cover the cost of a larger inventory or other expenses. Mrs. B got in a cash bind and couldn't pay her suppliers.
Confronted with the loss of her business and all that she had worked so hard for, she took bold action. She rented Omaha's City Auditorium, ran a massive sale, blew out $250,000 in inventory in three frantic days and paid off her suppliers.
After that, she operated strictly from cash as her store grew at a carefully measured pace into the largest home furnishings store in the United States, making her extremely successful.
Then one day in 1983, long-time customer and legendary investor Warren Buffett came into the store to see her. After wading his way through acres of bed-room sets, tables and chairs, lamps and rugs, he spotted Mrs. B.
Though she was nearly 90 years old, she remained a bundle of energy, using her electric scooter to zip up and down the aisles as she quoted prices and deliveries to customers, advised her staff and directed where and how to display merchandise.
Buffett had enormous respect for what Mrs. B had achieved and he wanted to buy the Nebraska Furniture Mart. He asked if she would consider selling it and when she said, "Yes," he asked how much she wanted.
"$60 million," replied Mrs. B. After a brief conversation, she agreed to sell 90%, with her family retaining 10% and they shook hands on the deal. Because of his respect for her integrity and her business acumen, he made this offer without auditing her books or inventory. Tax returns showed the business made $15 million a year pretax and that satisfied him.
Buffett had a one-page agreement prepared and Mrs. B, who could barely read English and did not write in it, made a mark at the bottom to signify her approval. A few days later, Buffett gave her a check for payment in full.
To close the sale, Mrs. B insisted that she remain the boss and continue to work seven days a week, 10 hours a day, as she had long done. Buffett hardily agreed and she remained active in business for the rest of her 104 years.
Success Tip of the Week:As Rose Blumkin showed us, a lack of a formal education need not prevent business success. The key for her and for any of us is to have passion for what we do and to be alert so that we absorb the crucial knowledge around us.