Hi everyone,
So if I have to sum up the problems people have and always ask a question about - one is hairfall and other pimples. I am going to talk about pimples/acne and a product which supposedly says which says zero pimples and helps in removing pimples.. ohhh well big claims right?? I am going to talk about Roop Mantra Zero Pimple Gel today and my thoughts on it.Keep on reading to know more...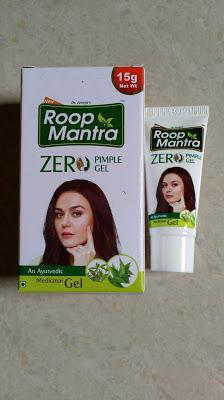 Roop Mantra Zero Pimple Gel Review
Price: Rs. 136/- for 15g 
Key Ingredients: Rosemary, Tea Tree Oil, Marigold, Lemon, Green Tea, Green tea, Tulsi, neem, Cucumber, Onions, Mentha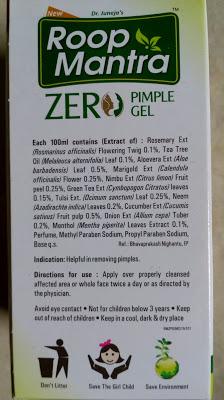 Roop Mantra Zero Pimple Gel Review
Roop Mantra Zero Pimple Gel is a rich blend of herbal extract of Rosemary, Tea Tree oil, Aloe Vera, Marigold, Nimbu, Green Tea, Tulsi, Neem, Cucumber, Onion, Mentha, provides better care to the skin, removing pimples and acne problems. This gel provides more clean and clear healthy skin with its effective antioxidant, antiseptic, antifungal and anti-inflammatory property.

Features:Treats pimples & acne removes excess oilOpens and clears clogged poresEnhances blood circulation of the skinRemoves skin rashes, pimples and pimple marksEliminates hyper pigmentationHelpful for dark spots, scars, blemishes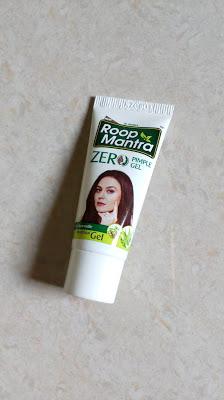 Roop Mantra Zero Pimple Gel Review
The product comes in a opaque white tube enclosed in a cardboard box with ingredients and other information mentioned on it. The tube is tiny hence user and travel friendly.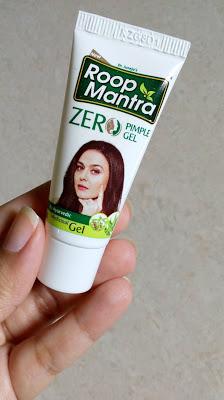 Roop Mantra Zero Pimple Gel Review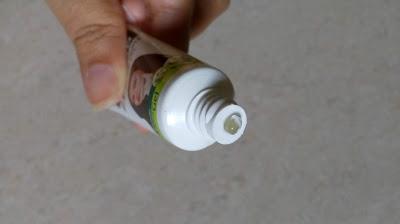 Roop Mantra Zero Pimple Gel Review
The product has a gel like consistency and has no color to it. It does smell medicinal. Now the way I like to use it is on the pimple directly before bed as it would stay on it longer and be more effective. Rosemary and Tea tree oil as its ingredients makes it effective for acne and spot treatments. My experience and opinion is that if you have excessive acne/cystic acne please consult a dermatologist.This product is meant for those who gets tiny and ocassional pimples in my opinion. I did find my pimple drying up after two days which my tea tree oil alone can dry it faster when used with aloe vera gel. Regarding spots it will fade with time. In my honest opinion the product is good but not worth trying again for me atleast. It does help with regular and repeated use though.
MLWM Rating: 4/5
Thank you so much for reading my review. Please leave your comments in the comments section. The comments on my blog are moderated and approved by me hence promotional/spam and comments with links will not be approved.
Do follow me on my YouTube channel and Instagram handle for more blog and life updates.
Until next time.. Take care xoxo