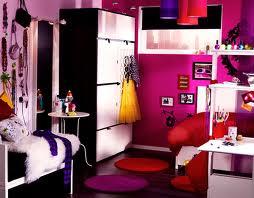 Your teenage girl will most likely have very strong opinions and tastes. Allow her to steer the makeover process, but be aware that teenage girls can change their minds often and quickly.
The best way to avoid following every whim that comes her way is to embark on a planning process for the room makeover.
Help her to research lots of options, sketch possible scenarios, look around at furniture shops or go online to http://www.superamart.com.au/. The more options she explores, the less likely she will be to rush into a bedroom makeover that she will end up hating by next week.
Painting the Walls
An obvious place to start the makeover is by repainting the walls. Changing the wall color will dramatically change the look of the room. You may even enlist the help of your teenage daughter to do the painting. Again, research is important. It's a great idea to buy lots of little sample pots and allow her the freedom to apply different colours before deciding on the color she wants. If she chooses a color that is quite different from the current paint you will probably need to apply an undercoat, so keep that in mind when making the decision. There are all kinds of tools available at the paint shop to help her create different textures on the walls. Let her experiment.
A Feature Wall
Another great makeover idea is creating a feature wall. This wall can be a solid block of her favorite color or can even be painted with blackboard paint to create her very own art space. Teens love to express themselves and the blackboard wall can be a great way for her and her friends to do just that. Buy lots of different color chalks and let them be creative. And if anything appears on the wall that you don't like, you can always apply the duster.
Wall paper is back in a big way, so why not take your teenage daughter to the wall paper shop and let her explore? There are some crazy, vibrant prints that would definitely add pizzazz to her room. Most wall papers are relatively inexpensive and they are very easy to hang as well as to remove, so really there is nothing to lose by letting her go for it. If she wants lime green stripes with yellow polka dots, why not let her have them?
What to do with Windows
There are all sorts of things you can do to dress up her windows. Blinds are excellent and come in lots of great colours and fabrics. You can even have blinds custom made in a fabric of her choice. You may also like to take her to a drapery store and let her look at different fabrics. Sheer fabrics will create a romantic look while blocks of heavy color will have a modern appeal.
The main thing to remember when doing a makeover on a teenage girl's bedroom is to allow her to make the choices.

If you enjoyed this post, please consider leaving a comment or
subscribing to the RSS feed
to have future articles delivered to your feed reader.