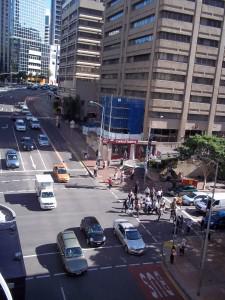 Last night I slept at a hostel in Brisbane.  Amazingly none of the guys in my room, nine in all, snored.  Even though no one snored, the drunken hallway noise coming in from under the door was enough to make me happy that I brought ear plugs, 3 pairs.  Just in case.  Having just left a farm, it is probably no surprise that I woke in the morning before everyone else.  Instead of taking the risk of making any noise and angering nine guys with hangovers I continued my reading of the Autobiography of Benjamin Franklin.  So far the book is nothing to write home about, and hardly worth blogging about either.  It certainly is no The Rise of Theodore Roosevelt.  Where Roosevelt was a pioneer and as rugged and honest as they come, Franklin is primarily a thinker, and sounds a bit self gratifying and a bit snobbish.  I like to think that Theodore Roosevelt would enjoy challenging Benjamin Franklin to an arm wrestling match.  Oh that would be good.  Teddy is my hero after all, and since my imagination can go on with this, for your sake I will stop now.  After the rest of the room began to stir about I stepped from our door and out onto the patio.  There to greet me good morning was the business and commerce of the capital city of Queensland.  Suits and business dress skirts busied up and down the street below me.  It wasn't long before the heat of the sun on my chest made me realize exactly the portrait I was a part of.  Three Europeans and one American all standing shirtless on a balcony in the middle of the central business district of Brisbane.  What can I say?  I just hope I'm not blamed for stocks plummeting, however I'll gladly take any recognition for a rally.  Minutes later I packed my bag and joined everyone below.  With my two bags hoisted onto my back I walked several blocks to pick up a ticket to see the Brisbane Broncos, a rugby team, later this month.  I then set out on several more blocks looking for the free wi-fi that I had thought I had been so smart in finding in pin pointing the locations of.  Mission free wi-fi was a failure.  So I left.  I entered Central Station, which is very hard for me not to call Grand Central Station, and boarded a train for the Gold Coast.  Next stop, Burleigh Heads.
Before I continue I want to recognize that Burleigh Heads neighbors Miami, Australia.
Before I boarded the train I was very happy to only pay A$7.80 for my ticket.  Let me remind you that this is the cost of a Big Mac, fries, and soft drink here.  A month prior I had paid almost twice as much to travel a shorter distance on the same rail from the airport.  I can only reason that not many people travel that line and so they charge more.  As the train was on its way I sat back and began to relax.  I had pulled out something to read and then decided to just savor the train ride and listen to some music.  The trains here are magnificent when compared to other trains.  Where other trains roll on metal discs on tracks, these trains travel along clouds.  As I was listening to music and gliding along I had a panic moment.  I was on the wrong train.  I had been correct in taking one of two trains heading south, but incorrect in taking the train that I needed.  My motto since I have arrived in Australia, and hopefully one that will apply to all of my life's endeavors, is to just go with it.  A moment of stoicism at its finest.  When the train reached the end of its line I exited and then hopped on the next train that came along.  Seemed simple enough and it worked.  I think we can all go on with the rest of our lives without addressing the extra fare that I neglected to worry about as well.
30 minutes later I arrived at the end of the line for the second time today.  I was about 45 minutes ahead of the time that Tricia was scheduled to pick me up.  I sat down on the bench in the middle of the train ramps and allowed myself to pass the time by sorting through the many random papers I had acquired in the last few days.  As I sat on the bench an hour passed.  It felt like only 30 minutes.  I have done a lot of traveling and I like I can sit anywhere for hours and find myself at ease, possibly even enjoying it.  I contribute this entirely to not allowing myself to concern over anything that I don't have control over.  I read an inspirational quote recently that applies.  If you don't like something change it.  If you can't change it, change the way you think about it.  As I sit for hours on end I often look at it as an opportunity to enjoy the moment.  This of course I force myself to do.  Perhaps this is stoic also.  I really should read the book on stoicism I have.  As I sat on the bench it had started to rain.  I checked my watch and realized it was well past 3 p.m.  I was late in calling Tricia who I would be working with until Saturday.  After phoning her I soon found myself bumping along in her blue Mazda.  All of the cars are small here.  They are efficient here in every way.  I immediately learn that Tricia is one of those people who are disarming and uncannily easy to talk to.  She travels regularly, has two kids (who also travel), and she helps people.  You can instantly tell she has a good heart.  After a few minutes we pull into her drive way and her daughter Grace is there to greet us.  Grace has blond hair and rosy cheeks and smiles as she waves to us.  She is 13 years old, not shy, and extremely polite in her mannerisms.  I instantly feel comfortable around her.  Upon entering the house I meet Tricia's son Oliver who is 15 years old and mirrors Grace's personality in confidence and politeness.  Within minutes I have been made to feel completely at home here.
As soon as introductions were done Tricia puts an Aussie staple meat pie in front of me.  She already knows the key to my heart.  I love these Aussie meat pies.  I fell in love with them at the Kooloombah Grazing Co.  You can put anything on them or eat them plain.  Hot sauce, bbq sauce, sweet sauce, ketchup, anything.  When I go home later in the year I will desperately seek meat pies out.  After the meat pie Tracie shows me around.  Her home is a quaint home in the suburbs of the coastal city of Burleigh.  I instantly acknowledge that there is not one single house that looks the same.  Not only are they unlike one another, but some of them are very symbolic of the tenants that fill them.  The exteriors vary the same way you would expect the interior to be different from one house to the next.  It is very charming and I doubt that I am able to do it justice.  The back of the house has an irregular shaped fence that zig zags around a pool, a separate room, and a yard that has chickens and two organic gardens.  The pool has stone flooring and a huge mural of the ocean looming over it that tops off the entire package perfectly.  The chicken coop has 4 friendly chickens that walk right up to you to introduce themselves.  Friendly chickens.  I had no idea.  There is a second level balcony that overlooks the beach to east and the mountains to the west.  Wow.  I think I just went from an amazing farmland to an amazing beach home.  Maybe I really am on that train in the clouds and I will wake up any time now.
Tomorrow I work for 5 hours and that is the contract that Tricia and I have agreed on to allow my stay.  She offered 4, I offered 5.  The work will be tough, but if I get up early than I will have the rest of the day to spend in my favorite of any setting, the beach.