I have just discovered a site called Romwe that is based out of China and offers amazing fashion options and deals.  The other perk?  FREE shipping worldwide with no minimum purchase.  It seems too good to be true.  The one piece of advice I have for people purchasing from Romwe is to allow time to ship.  Don't purchase something that you will need within the next month, because the shipping from China takes significantly longer than if you were to purchase from within the states.  Below, check out my Romwe.com wish list!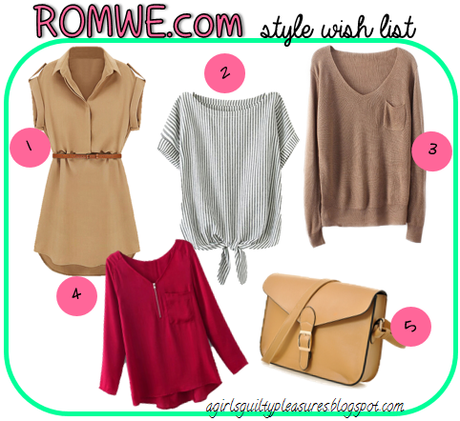 Get these looks here:
1.  Romwe Khaki Belted Dress - $26.99 2.  Romwe Self-Tie Striped Shirt - $22.99 3.  Romwe Pocketed Sheer Brown Jumper - $24.99 4.  Romwe Pocketed Zipper Sheer Red Blouse - $21.99 5.  Romwe Single Buckled Retro Bag - $19.99
So be sure to check out ROMWE.com and let me know what your favorite look is!