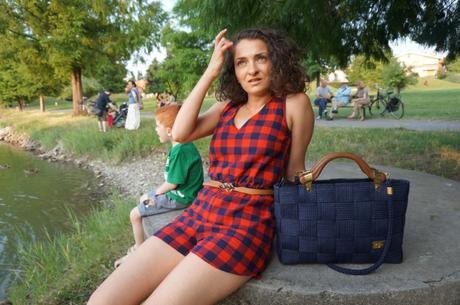 SUMMER IS NOT OVER YET!
I repeat SUMMER IS NOT OVER YET!
Don't let those store window displays or even my posts about Fall Fashion Trends (like this one from last week, or the one I'm publishing later this week!) rain on your summer parade! There are still two whole WEEKS before September rolls around and for most of us it is still hot outside.
Like boiling hot. Like.....
Dear, Humidity, why do I even bother combing my hair when it is just going to be a sweaty, frizzy mess come lunchtime - type of hot. So now, let's get on with it - THE ROMPER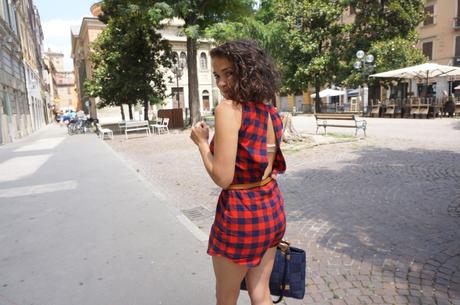 The Romper - It's Sexy and Practical!
I've been wearing one-piece playsuits for the past decade or so, but this season in particular the one-piece shorts+tank or pants+top phenomenon has had a glowing moment in the fashion spotlight.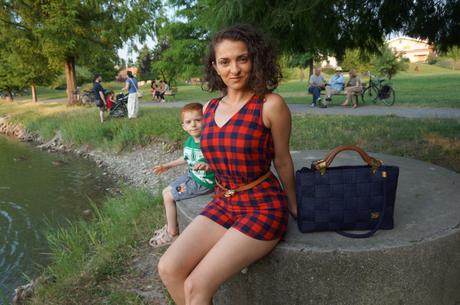 The one-piece outfit is often referred to as a ROMPER (or PLAYSUIT) for shorts or a JUMPSUIT for pants or a culotte length leg. It is a fantastic alternative to short skirts and dresses when you want to show some leg but you don't want to worry about also showing your undergarments. Wearing a romper IS a statement because I personally find them undeniably sexy and form-fitting, even though they are nothing more but a combined top and bottom.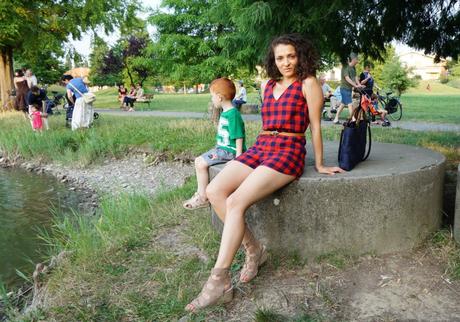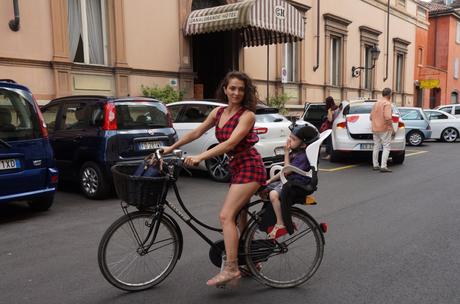 The romper is waist defining and shows a woman's curves without necessarily being skin-tight. The great thing about this trend is that it is also very easy to dress up for an occasion by adding in statement jewelry, heels and a clutch or you can dress it down by pairing with flatform or flat sandals, a sunhat and bucket bag or knapsack.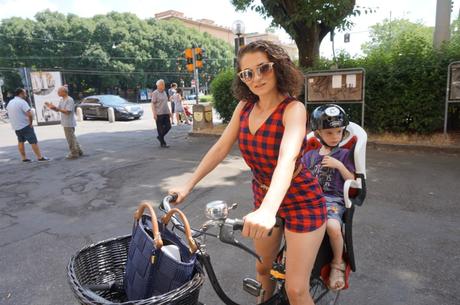 The options right now are endless and the great thing is that you can find really nice jumpsuits on sale to wear for the rest of summer or....here's an idea ...next year!
JUMPING AHEAD IN A JUMPSUIT - SS2017 TRENDSPOTTING
Don't think of the romper and the jumpsuit as a "trend" per say...think of them as a new classic! There are pants, shorts, skirts, dresses, and one-piecers like the jumpsuit and rompers....they work right into the mix of your wardrobe and do not show any sign of disappearing next season.
Just to prove that this new classic silhouette will be around next year (so you don't have to fear spending your money on a dying trend), I've put together a brand new Pinterest Board HERE dedicated to the RESORT and CRUISE 2017 collection that have rompers and jumpsuits!
Everyone from Missoni, Ellie Saab, Louis Vuitton, Armani and Mara Hoffman featured one-piece items that are not that dissimilar to what you would find on sale now!
Before I get into some of the great rompers and jumpsuits that are on sale now I wanted to talk a bit about my philosophy towards fashion that I call FASHION FORESIGHT - tracking future trends to shop the sales now so that you can buy better quality clothes ON SALE and still be fashionable. I've written about my philosophy towards fashion here, and I've explained how the runway calendar for fashion works and how you can spot the trends in advance with Fashion Foresight here!
You may also like reading an article I recently wrote for the IFB - The World's largest online community of Independent Fashion Bloggers called " A Fashion Blogger's Secret Weapon: Know the Trends Before They Happen ". This article has been shared I don't know how many times, and since writing it I've gotten all kinds of proposals for new collaborations including a great new affiliate partnership with Fendi! .....More on that in the FALL!
Shop the SS2017 Trend NOW
There are still a few good weeks to wear this trend this summer if you haven't already done so, and if you're sitting on the fence about whether or not you should buy one I hope I've convinced you to just go for it because this silhouette is here to stay.
These are a few of my favorite selections from Shopbop.com that are still available and I've done some research to only share styles that are a great deal! - All styles were found here ...btw! -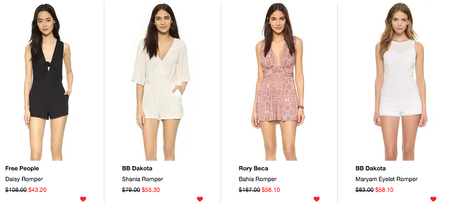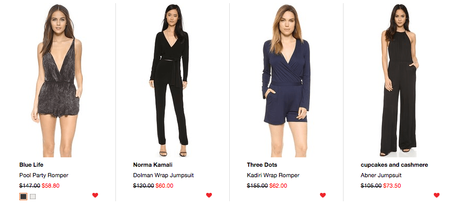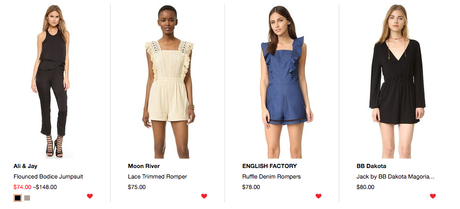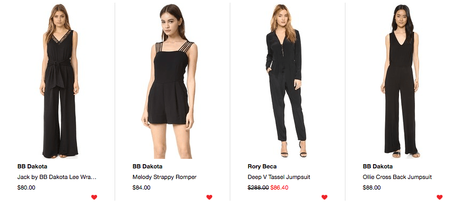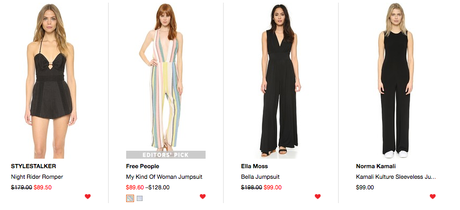 What do you think about my picks from Shopbop.com, does anyone shop with them already? I'd love to hear what you think. And is anyone wearing the romper/jumpsuit trend? I actually still think I can pull this off for a few more years, and with longer shorts or pants for decades to come, I just find it so flattering, but I'd love your feedback!
Have a great Tuesday and feel free to share your style posts in the linkup and visit some of the other bloggers !
#REASONSTODRESS DRESS TO IMPRESS FASHION BLOGGER LINKUP
Welcome to the #REASONSTODRESS DRESS TO IMPRESS LINKUP for fashion and style bloggers!
This linkup is hosted by REASONS TO DRESS - An Italian lifestyle blog about an expat-Canadian married to an Italian leather artisan. Part of this new linkup is sharing up and coming style bloggers and we're always looking for fabulous co-hosts who will be interviewed and featured - email [email protected] for info!

SHARE YOUR POST ON TWITTER with the hashtag #REASONSTODRESS & you'll get a retweet!
REASONS TO DRESS - An Italian Lifestyle Blog About Fashion, Travel & Life in Italy
THIS WEEK'S BANNER / INSTAGRAM IMAGE :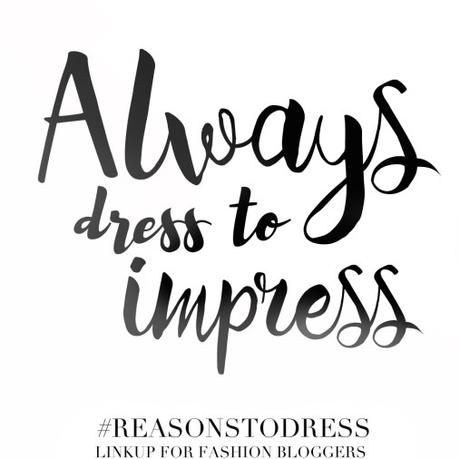 Grab the 200 x 200 version of this banner for your blog post with the code below!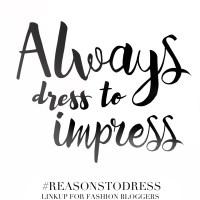 PLEASE : Linkup your STYLE related posts, new and old! Or Linkup a FASHION related picture from Instagram with the hashtag #REASONSTODRESS
PLEASE: Add the badge or a link back to EITHER of the weekly hosts
PLEASE: Follow each host on at least 1 social network , we're friendly, social and generally over-sharers! Let us know that you've followed so that we can share the love!
PLEASE: Please be social and visit a post that interests you. Don't forget to use the #REASONSTODRESS hashtag to let people know how you found them!