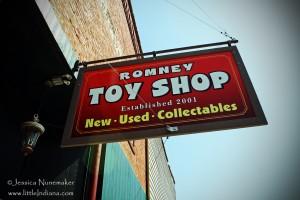 Romney Toy Shop: Romney, Indiana
Romney Toy Shop in Romney, Indiana  is proof thatvery big and wonderful things come in small packages.
From the outside you would never guess how many great toys are waiting inside (and outside) of this Tippecanoe County toy shop!
Romney, Indiana: Romney Toy Shop
Before I began my little Indiana adventures, I had no idea that there were any toy stores–and now look at how many Indiana toy stores we've found! It's pretty incredible. And so is Romney Toy Shop!
I've driven past this place a few times and gazed longingly at the windows and the row of bikes and outdoor toys as I rode by but I just couldn't manage to make it inside until recently. Hubs, the boys, and I went wild.
Romney, Indiana is a very small Indiana town but this shop is awesome! It is absolutely packed with toys for boys and girls of all ages. Collectibles, used, and new toys, it has everything you want at a price you can afford. Really!
Indiana Toy Store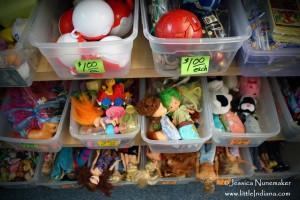 Romney Toy Shop: Romney, Indiana
There were shelves of cars, tractors, Care Bears in all sizes and colors, Legos, and horses. Bins of balls, action figures, Barbies, dinosaurs, and other toys lined another section of the store. Boxes of Star Wars occupied another shelf.
I found a bin of vintage Fisher Price items that I remembered playing with as a kid. My husband saw Teenage Mutant Ninja Turtle action figures he once adored. Our boys didn't know where to look first!
The oldest found a neat Imaginext Dinosaur playset…and with the price on it, we couldn't say "no!" The youngest found a small train that he wanted…so he got to bring that home, too.
Go There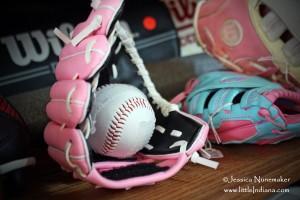 Romney Toy Shop: Romney, Indiana
This Indiana toy store is very well organized  and full of such a great range of toys! I drooled over the board games and even I went home with a few to play with the kids. You know how much I love my vintage board games!
Romney Toy Shop may very well be your new favorite thing around little Indiana. Call ahead–and please don't forget to tell 'em that you saw them onlittle Indiana.
Find pictures in Indiana on my Flickr photostream or on the new little Indiana Tumblr blog.
Just don't forget to tell 'em that  little Indiana sent you!
Romney Toy Shop
11501 U.S. 231
Romney, Indiana 47981
765.538.2887