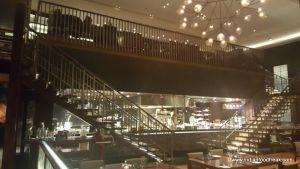 When the name of the place is JW Marriot, the expectation from the place is miles high. The JWM at Sahar was launched in the not too distant past and has lived up to the image the name JWM brings. Set in a 37 acre property, the place spells grandeur and luxury.
We were invited to review one of the restaurants in the hotel, their Italian restaurant Romano's. The first impression when one enters through the doors is that of space; high ceiling, tall staircases to the floor above, ample room to move around and an ambiance which is purely European. The beautifully laid out first floor has a bar which has a private dining room, and a bar which is well equipped. The impressive array of infusers and mixers was indeed a visual treat. What I liked most were the little oak barrels in which they put their scotch for a few days for it to acquire additional oak flavor. I also noted that the place had reasonably full of quests..Quite a large number in fact for a Thursday, that too at 8.30 pm.
The open kitchen is where we met Chef Roberto Zorzoli – an enthusiastic young man full of passion about about craft which shines through every sentence he speaks. His enthusiasm set the tone for the evening as did the beautiful unabashedly luxurious decor.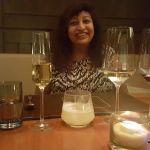 We were served a glass of sparkling, the minute we were seated. The open kitchen which was a hive of activity, the wonderful whiff which wafted from the open kitchen, the beautifully laid table and the mood in general whetted my appetite and I was eager to find out what treats Chef Roberto had planned for us.
We were served hard crust house bread which was earthy and wonderfully heartwarming. Then arrived the Antipasti – beautifully presented patties of eggplant, mashed chickpeas, borlotti (Poplette Di Melanzane Con Purea Di Ceci – INR 695). To say it was delicious is an understatement…the flavours brought about a sensation of pure bliss in the mouth and had us craving for more. Then came the Scotch…a joyful sight indeed.  A large ball of ice was placed in a glass and the Godfather Negroni was poured with the solemnity it deserved, a flamed orange twist added and voila! The Negroni, which was straight out of one of the little barrels I had seen on the first floor bar counter was perfect with subtle flavours of the oak and the orange twist lending an added aspect to the nose and taste.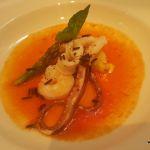 Then came the
Fritto Misto
which was an artfully presented Calamari, Prawns, Fish in Marinara Sauce (INR 850). If presentation of this dish was king, the taste ruled as emperor – subtle fresh flavours of tomato where each ingredient stood out, the flavours delicate and distinct. To me, this was the hero among all that we tried out that evening. The
Burrata with Ham
(Home style creamy buffalo cheesse,organic tomato, pesto – INR 995) was another beautiful dish – although the Burrata was a tad runny, it nonetheless made a happy medley of tastes in my mouth. The
Gavi
that was served with it was a young cheerful wine and didn't overwhelm the palette, leaving it fresh and eager to try out the other tastes which were to follow.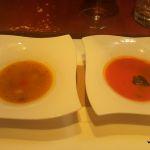 The soups arrived, laid out attractively in two small portions; Zuppa Di Pomodoro E Caprino (Tomato soup, goat cheese, basil – INR 595) and Pasta E Fagioli (Beans, bacon, pasta – INR 595). The first was a joyful blend of four varieties of tomato which made the palette go aaaaah with each spoonful, refreshingly fresh is the only way I can say it.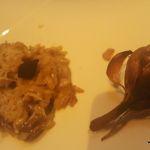 The Risotto Salsiccia E Funghi (risotto with wild mushrooms and homemade pork sausage – INR 995) continued with what I had come to associate with Chef Zorzoli…fresh ingredients with distinct notes of the ingredients. The most interesting part was the Black Garlic which left us excited. I had never seen this before; the peeled garlic was somewhat like a pickle with its very appealing slightly fermented taste and fragrance. Upon asking Chef Zorzoli about it, he replied "we make together". Now I had something to look forward to even after the lavish dinner. The Barbera D'Alba 2012 which was served with the risotto was a very suitable pairing and was smooth on the tongue. The Dentice Alle Olive (Red Snapper, cherry tomatoes, olives – INR 1690) too was a wonderfully balanced dish loaded with freshness although it was a tad heavy on the salt for my palate. Agnello Castagne E Barcolo (Australian lamp loin, chestnuts, Barolo wine sauce, wild black rice – INR 1950) was cooked medium rare to perfection with the cooked meat appearing a most delightful pink when cut and was completely melt in the mouth in its glorious tenderness.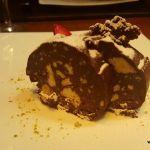 And then it was time for desserts. The stomach satiated to its limits and more, I was hard pressed to find room for the luscious
Chocolate Salami
with whipped cream which Chef Zarzoli presented before us. There was more –
Latte Fritto
(Fried milk, cinnamon vanilla ice cream – INR 450) was sinfully delicious and I dug into it with abandon and no regret whatsoever!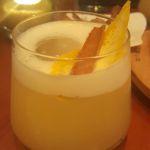 Somewhere along this entire spread of delicious decadency, we also had a
Ballatine's Cinnamon Sour
(Whiskey, egg white, lemon juice, cinnamon sugar – INR 690) which reminded me of Christmas.
The entire meal was made all the more pleasurable by Chef Roberto Zorzoli's enthusiasm and his easy conversation about his plans for adding even more zing to the already expansive menu at Romano's. Chef's promised "we make together" Black Garlic was made together where garlic was wrapped in layer after layer of aluminum foil and the contents were put into a very slow oven for 1bout 30 days.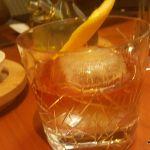 Romano's attention to detail, the sheer elegance of the place, the artful presentation of the food, the way the ingredients in the food found its way into each mouthful in full glory with no overkill whatsoever, all of it made the evening perfect. I did miss the greens and am sure some fresh herbs in the dishes will be a welcome addition.
Go experience Romano's for a delightful meal where the hospitality and the food and drink will leave you wanting for more. I had a superb evening, I'm sure you will too!
Ratings (out of 5)
Food: 4 | Drinks: 4 | Ambiance: 4.5 | Service: 4.5 | Overall: 4.5
Meal for Two: Rs. 4500  Credit Cards: Yes | Alcohol: Yes | Timings: 6.30 pm to 11.30 pm | Wheel Chair Friendly: Yes
Address: JW Marriot Mumbai Sahar, 1A Project Road, Chhatrapati Shivaji International Airport, Sahar, Andheri East, Sakinaka, Mumbai, Maharashtra 400099
Disclaimer: This review was done on an invitation from the restaurant. Due judgment and care has been applied by the author to remain objective and unbiased in the review, but readers need to consider this review keeping this fact in mind.

This Post was written by Mrs. Rupa Purkayastha Roy