Historical Romance/ Adult
by Julia Quinn
(Bridgertons #4)
Published July 2002
370 pages
This review doesn't contain spoilers!
Blurb:

Penelope Featherington has secretly adored her best friend's brother for . . . well, it feels like forever. After half a lifetime of watching Colin Bridgerton from afar, she thinks she knows everything about him, until she stumbles across his deepest secret . . . and fears she doesn't know him at all.

Colin Bridgerton is tired of being thought nothing but an empty-headed charmer, tired of everyone's preoccupation with the notorious gossip columnist Lady Whistledown, who can't seem to publish an edition without mentioning him in the first paragraph.

But when Colin returns to London from a trip aboard, he discovers nothing in his life is quite the same, especially Penelope Featherington, the girl haunting his dreams!

And when he discovers that Penelope has secrets of her own, this elusive bachelor must decide . . . is she his biggest threat, or his promise of a happy ending?
Read the first chapter here.

About the title:
Romancing Mister Bridgerton- Who will be Romancing Colin ?

What I expected:
I expected to know Colin a bit better, he was hilarious and so fastasticly written on the previous books! I love the friends-who-fall-in-love theme, but in this case only one of them was in love. I had no idea how they would get together!
What it was:
I love the fact that it took several years for them to be together! Colin was a bit of a disapointment…
My Reactions:
Why don't you like her?! Don't you realise you love her? Tell her you love her!

My Thoughts :
I loved this book! Colin is incredibly  stubborn, I wanted to hit him several times through the book. I also fell in love with Penelope, she stole the book from him and took over till the end! Penelope is my idol! Plus, this book reveals a major Bridgerton mystery!

MUST BE READ: I recomend this book to everyone!
TO BE READ: Didn't you hear it when I said "everyone"?
NOT TO BE READ:…What's wrong with you? Sit down and read it!
Worth buying? YEAH!

Cover Art: 4/5
Plot: 4/5
Setting: 5/5
Writing: 5/5
Dialogue: 5/5
Originality of Plot: 4/5
Characters Development: 4/5
Ending: 5/5
Pacing: 5/5
Likelihood to Recommend: 5/5
Analytical Ratings: 46/50- Can't Live Without You!


SEXUAL CONTENT – I see fireworks!

SPOILERS AHEAD- The Duke and I Extras:
My Selection of Quotes (From Goodreads):
"He murmured her name, tenderly taking her face in his hands. "I love you," he said, his voice low and fervent. "I love you with everything I am, everything I've been, and everything I hope to be."

"I love you with my past, and I love you for my future." He bent forward and kissed her, once, softly, on the lips. "I love you for the children we'll have and for the years we'll have together. I love you for every one of my smiles, and even more, for every one of your smiles."
— Julia Quinn (Romancing Mister Bridgerton)
"Colin decided then and there that the female mind was a strange and incomprehensible organ – one which no man should even attempt to understand. There wasn't a woman alive who could go from point A to B without stopping at C, D, X, and 12 along the way."
— Julia Quinn (Romancing Mister Bridgerton)
"She had been born for this man, and she had spent so many years trying to accept the fact that he had been born for someone else…"
— Julia Quinn (Romancing Mister Bridgerton)
"She'd met Colin on a Monday.
She'd kissed him on a Friday.
Twelve years later.
She sighed. It seemed fairly pathetic."
— Julia Quinn (Romancing Mister Bridgerton)
This is a compilation of the material avaliable on JQ's Site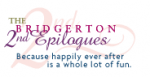 2nd Epilogue for Romancing Mister Bridgerton

Stop the Presses: Eloise finally learns the truth!
We can't really say more without giving away a big, fat spoiler, but it turns out that:
Colin is a bit of a meddler,
Hyacinth is more of a meddler, and:
the only time all of the Bridgertons stop talking at once is when Penelope has something really embarrassing to say.
Hey, we never said it was easy to marry a Bridgerton, just that it was fun…


Did you find mention of some of my "old" characters? You can find, in the columns of Lady Whistledown: Ned Blydon, Viscount Burwick (a secondary character in my first three novels and the hero of an upcoming novella); his sister Belle (heroine of Dancing At Midnight, now Lady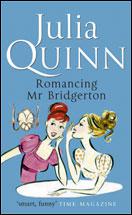 Blackwood); Lord and Lady Riverdale (hero and heroine of How To Marry A Marquis), Lucas and Jane Hotchkiss (also from How To Marry A Marquis). Not to mention Robert from Everything And The Moon who hosts the Macclesfield ball–a very pivotal scene. And who could forget Lady Danbury, who made her debut in How To Marry A Marquis and has since appeared in all of the Bridgerton books. She's so much fun that I decided to give her a big supporting role this time around.

Also in Lady W's columns: Michael Anstruther-Wetherby, brother of Honoria, the heroine of Devil's Bride by Stephanie Laurens!

In the first chapter, Penelope is reading a book called Mathilda by S.R. Fielding. This is from Dreaming of You by Lisa Kleypas, one of my all-time favorite romance novels! The heroine is a novelist, and Mathilda was a huge bestseller.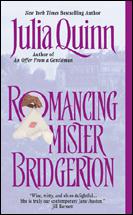 The working title for this book was MR. BRIDGERTON, I PRESUME.

One of my summer jobs in college was working as a travel writer for LET'S GO: GREECE & TURKEY. I spent seven weeks on Crete, Cyprus, and a couple of islands in the Dodecanese. I drew upon my memories of Cyprus for Colin's writings. His descriptions of Scotland are mine as well, drawn from my visit in spring of 2001.

Lady Whistledown, the gossip columnist featured in Romancing Mr. Bridgerton, "narrates" her own anthology in The Further Observations Of Lady Whistledown. This book is not, however, a part of the Bridgerton series.

Romancing Mr. Bridgerton received a facelift in September 2009 (see new cover above). But while the cover may have changed, the words have not. The story is exactly the same as it was when released in 2002.
The UK Cover and the original cover from 2002.
Julia Quinn Answers:
In Romancing Mr. Bridgerton, you thank Lisa Kleypas and Stephanie Laurens for the gracious use of their characters. Which characters were those?
I thought it would be fun to pay a little homage to my friends and colleagues, so in chapter one of Romancing Mr. Bridgerton, Penelope is reading a book called Mathilda by S.R. Fielding. This book played a big role in Dreaming Of You by Lisa Kleypas (S.R. is actually Sara, the heroine). And in the Lady Whistledown column opening chapter nine, I mention Michael Anstruther-Wetherby, who is the brother of Honoria Anstruther-Wetherby, heroine of Devil's Bride, the first book of Stephanie Laurens's Cynster series.

Music that inspired Julia Quinn's writing, music that reminds her of her books: "I didn't always realize it when I was writing them, but each of my books has a soundtrack".
Romancing Mr. Bridgerton

"Heavy Things" by Phish
Whenever I hear the line: "When I tried/to step aside/I moved to where they hoped I'd be," it makes me think of Penelope. And Colin, for that matter. They were both trying to carve out their own places in the world and kept finding themselves pigeonholed by society. Plus, I think that if Colin were a modern guy, he'd be a bit of a Deadhead (and by extension, a Phish fan).

"Legend of a Cowgirl" by Imani Coppola
I love this song! It just screams Girl Power to me. I can totally see a modern-day Penelope singing it at the top of her lungs if she didn't think anyone was home.

"Virginia Woolf" by Indigo Girls
A wonderful song about the power of the pen, especially in the hand of a woman.

"Babylon" by David Gray
I listened to this song so often while I was conceiving and writing this book. We were living in London while my husband was studying at the School of Tropical Medicine and Hygiene, and we only brought about ten CDs with us. White Ladder was one of them, and amazingly, I never grew sick of it.


  Romancing Mister Bridgerton spent four weeks on the NYTbesteller list (paperback fiction), peaking at #9.
 Six weeks on the USA Today bestseller list, two of those weeks in the top ten!
 #6 bestselling romance of 2002 at Amazon.com. Chosen as one of the ten best romances of 2002 by Amazon.com. To see the full list, click here.

Romancing Mister Bridgerton was a finalist for the 2003 RITA for Best Long Historical Romance! Details about this great news and info on the other finalists here.
 Four weeks on the Publishers Weekly Mass Market bestseller list, reaching #4.
 #1 on the Waldenbooks Mass Market bestseller list. Chosen as one of Waldenbooks' Best Romances of 2002. To see the full list, click here.
 Romancing Mister Bridgerton is in fine company as one of the top ten Favorite Books of the year (annual poll by Romance Writers of America). For the complete list, click here.


 A Main Selection of the Rhapsody Book Club, and a Featured Alternate Selection of the Doubleday Book Club.
 Also available in Large Print and as an e-book.
Have you read this book before? What did you think?