Since being in Nepal, M and I have savoured each time together that we have had. Living in a house with seven people means it is often difficult to find time for each other and when we do it is rarely private.
After our night away in Nagarkot, a small village west of Kathmandu, I have been recovering from my illness that plagued me the whole time we were there. Also, on our return M's grandparents were not happy that we had gone away together and there was tension over that matter. Luckily for me I was in bed most of that time so I managed to keep out the way.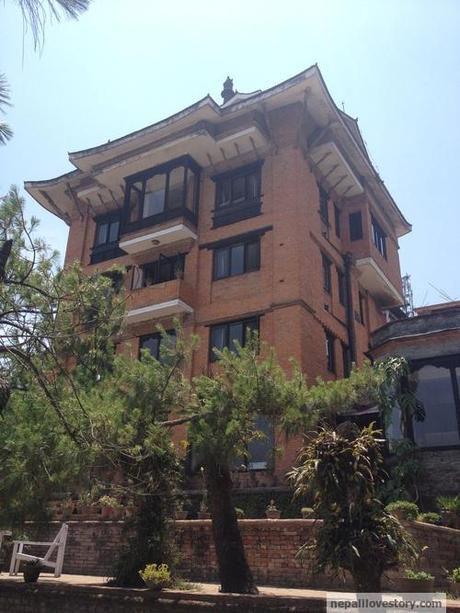 The Fort Resort – our hotel in Nagarkot
By the weekend I was feeling better and was able to eat properly. M and his friends had planned to meet for the day at a Newari restaurant in Kirtipur, an ancient city south west of Kathmandu. The place was beautiful lined with uneven streets and traditional houses and the smell of local raksi (alcohol) drifted around in the breeze. Although I could not drink or eat anything but a bottle of water and an apple from home, I still had a lovely day ad even got to wander around the campus of Tribhuvan University.
The thing I especially liked about Kirtipur was its history. The town was one under siege by the King Prithvi Narayan Shah who wanted to claim the rest of the Kathmandu Valley to rule over. Alas, he was unsuccessful the first two times against the powerful Newars. It was only the third time he attacked the town that the King claimed it for his own. Cruelly, as a revenge on the townspeople, the King ordered for all the males to have their lips and noses cut off. He spared only those who could play wind instruments for his entertainment.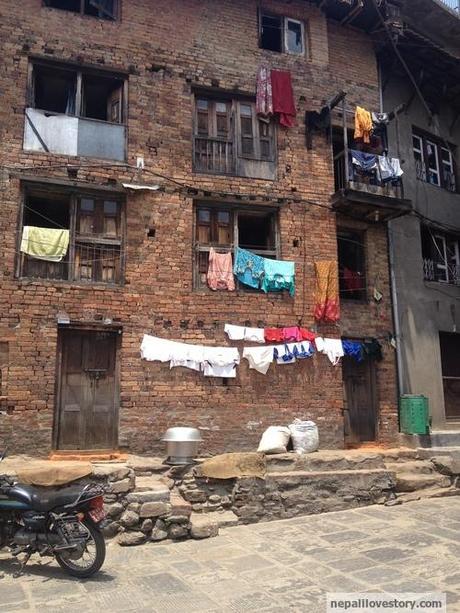 The ancient city of Kirtipur
The next day was spent at home for the most part whilst I had my Nepali lesson. Suddenly M told me to get dressed as he was going to take me into Kathmandu. It was a nice surprise as we traveled by taxi and were dropped off outside Kaiser Library. The books inside the library were old bound editions covering a broad range of topics and titles which we enjoyed leisurely flicking through whilst strolling through the many rooms. The building itself if beautiful and the interior is even more so. The inside is littered photographs, paintings, chandeliers and old furniture. When you walk in you feel transported in time, a feeling you should get in a library.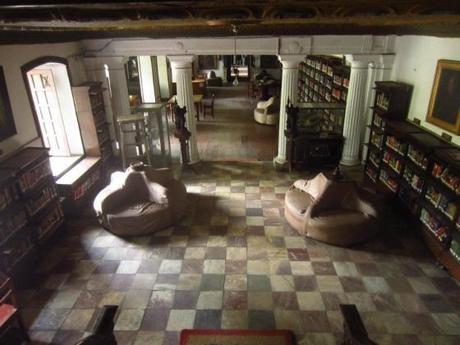 Down the library stairs – Google Images
After cooling down in the library M led me to the Garden of Dreams, a spot filled with 'overly amorous Nepali couples' my guidebook remarked. We walked around the beautiful garden and true to its word; in every corner you looked there were couples. M was shocked that Nepalis were being so openly affectionate and soon gave in to holding my hand in the public garden.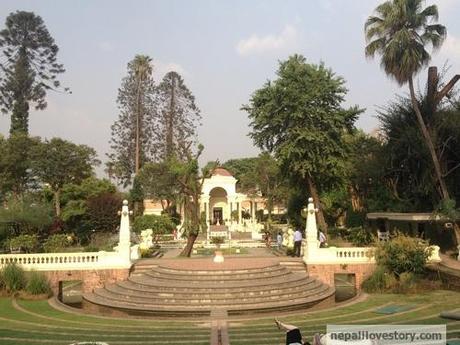 Perfect and peaceful
After a romantic afternoon I thought we were set to go home until M again led me down the narrow streets of Thamel to the Roadhouse Café. We ordered a four cheese pizza with grilled vegetables and it was the best pizza I have ever had – anywhere. The pizza had a mixture of goat and yak cheese which just sent my taste buds everywhere! Everything was perfect and the ambience of the restaurant was incredible.
As we walked out of the door to leave, a rickshaw surprisingly pulled up. I have been begging M if we could have a ride since I arrived, so I jokingly said to him it must be a sign. We clambered on the seat and had a very bumpy evening ride around the streets of Kathmandu. Although we had three collisions, two with cyclists and one with a car, it was a very enjoyable and romantic experience which perfected the romantic day.
Just when I had thought M had stopped being romantic he surprises me with his spontaneous actions and makes me feel as if we are on our first date again. The afternoon definitely made up for my being ill the whole time in Nagarkot.