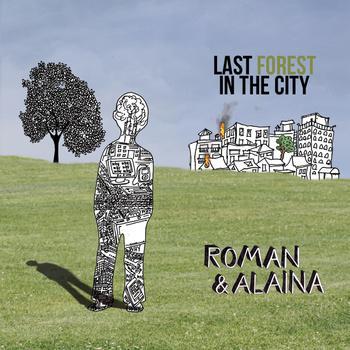 Every once in a while I hear an album that sucks me into a vortex of hyperfocus, contrary to my signature ADD. That's what happened when I was introduced to bards like Joni Mitchell, U2, and Sufjan Stevens. Roman and Alaina's LAST FOREST IN THE CITY did the same for me.
The couple's album story debuted in 2011 in a Jerusalem bomb shelter. Having known Chicago- native/Seattle-raised Roman since 2004 and Canadian beauty Alaina since 2009, and was struck by the forest pun: their last name is Wood.
LAST FOREST IN THE CITY is about the effects of industrial development on the intact, inner-city family. 
An instrumental merge of R & B, folk, and Indie elements, Roman and Alaina trace the emotional spectrum of a family in transition. Children
 of divorced parents themselves, their lyrics emanate from a genius born of affliction. Check out the Jersualem Post's article on the couple's album: 
http://www.jpost.com/ArtsAndCulture/Music/Article.aspx?id=251009
And take a few minutes to listen.
 My absolute favorites are tracks 4 & 5.
http://romanandalaina.bandcamp.com/album/last-forest-in-the-city