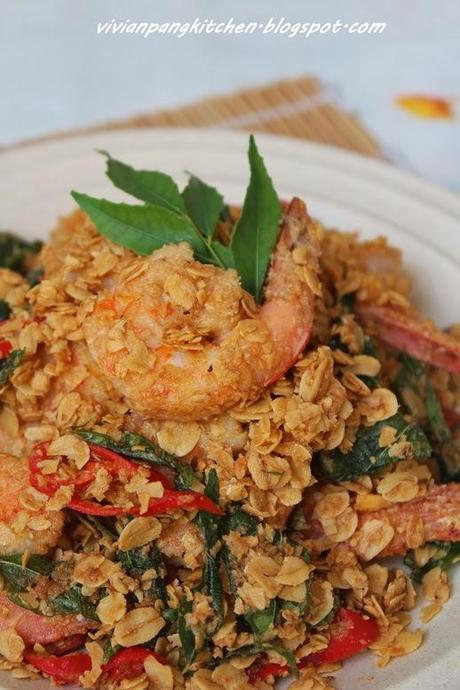 Despite having rolled oats in desserts I love to experiment and use it in savoury dishes. This rolled oats prawn is inspired by cereal prawn dish from
Indochinekitchen
. By looking at the name I'm sure you know why I named it rolled oats prawn :) Yes I substitute Nestum with rolled oats. I love this recipe as no deep frying required. This rolled oats prawn dish has less oil, high fibre, tastes good and easy to prepare. Sounds great right?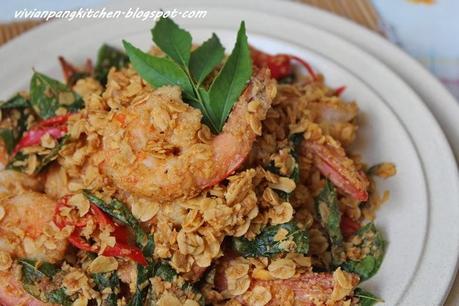 The coated prawns are pan fried till cooked before tossing into the buttery rolled oats. Salted yolk is used in this recipe. Yolk is cooked with butter till fragrant. Then spice with curry leaves and chilies. Lastly rolled oats are added to absorb the buttery yolk flavor. End up having lightly crispy, chewy and flavourful rolled oats to go with prawns :) Do try and let me know if you love it as much as I do.
Adapted with modification from Indochinekitchen, cereal prawn
Rolled Oats Prawn
Ingredients:
(A)
12 pieces prawns (medium size)
¼ teaspoon salt
¼ teaspoon white pepper
½ egg whites from an egg
1-2 tablespoons vegetable oil, for pan fry
About ¼ cup oat flour, for coating (blend from ¼ cup old fashioned rolled oats till fine)
½ cup rolled oats
(B)
2 tablespoons butter
1 teaspoon vegetable oil
1 salted egg yolk, diced
3 stalks curry leaves
1 big red chili, sliced diagonally
1 teaspoon sugar
Methods:
1. Remove heads, shells with the tail intact. Devein prawns. Marinade prawns with salt, pepper and egg whites for about 10 minutes.
2. Put ½ cup rolled oats inside wok. Without adding any oil, pan fry the oats till fragrant and lightly brown. Dish out and set aside.
3. Heat up wok, add in vegetable oil. Dust marinated prawns with oat flour. Arrange in hot wok and cook till golden brown. Dish out and set aside.
4. Without washing the wok, melt butter and vegetable oil in wok. Add in diced salted yolks and stir-fry on medium heat. Once the yolk and butter mixture turned bubbling, add in curry leaves, sliced chilies, sugar and toasted rolled oats.
5. Quickly stir-fry for few seconds till rolled oats are well coated, feel light and crispy. Toss in cooked prawns. Mix well and serve. Enjoy!
I'm the host for
November 2013 The Little Thumbs Up
 event with 
Oats
 theme. Cook or bake oats from whole oat groats, steel cut oats (Irish oatmeal), Scottish oatmeal, rolled oats (regular or quick rolled oats) and even oat flour. Do link up your recipes on 

this post
 and have fun!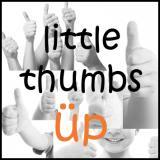 This post is linked to the event, Little Thumbs up organised by

Zoe from Bake for Happy Kids

and

Doreen from My Little Favourite DIY

, 

hosted byVivian of Vivian Pang's Kitchen