APPLE VALLEY – California's 33rd State Assembly district, which is currently represented by Republican Tim Donnelly of Twin Peaks, has seen many recent candidates toss their hat into the ring. But the question remains: Who exactly will stand out in this race for High Desert voters?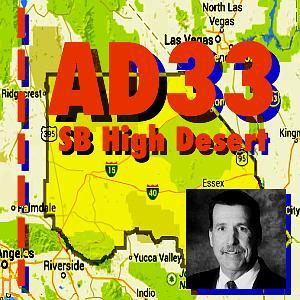 "I think what sets me apart is first off, my public service as a police officer for 32 years and my service on the (Apple Valley) town council for eight years – with two terms as mayor," AD33 candidate
Rick Roelle
told the Bee in an interview on Saturday.
Roelle told the Bee that a state assembly candidate of the San Bernardino County High Desert – a conservative-leaning district – must be familiar with both the state's political system and local issues.
"It's not what it used to be," Roelle said. "There's more Democratic runners in the area, but I think this area up here in the desert attacts the conservative view of government."
Roelle explained that High Desert residents generally do not like government intruding into their lives – which is why people move to the outlying areas in the first place. High Desert residents want "more space, they want to be left alone," according to Roelle, while realizing that "people up here want to be represented (in) Sacramento at the same time."
The top issue for Roelle, as well as many High Desert constituents, is public safety.
"Your right to be secure in your homes, the right to be free, goes hand in hand with public safety," he said. "Because if you're not secure in your home – if you're not secure in your day-to-day living – then government is a failure. So I think what I can accomplish in Sacramento is pushing the issues of safety and the importance of it."
Roelle said that AB 109, the early release of nonviolent offenders, has had a "devastating" impact on crime rates of the High Desert communities.
"It's the simple fact that home burglaries, car burglaries and simple types of thefts have skyrocketed," he told the Bee. "It's because people who have committed many crimes know that they're not going to do serious time if they get caught breaking into a car. They're going to go out the next day or night (continuing criminal activities) because they're not held accountable for it. So, I'll be banging the drums on public safety in Sacramento big time."
Roelle currently holds the rank of Lieutenant and is second in command at the Sheriff's Barstow Station. He has worked for the San Bernardino County Sheriff's Department running undercover operations, managing the Victorville detective division, and overseeing inmate services, according to his fact sheet.
He was elected to the Apple Valley Town Council in 2004 and 2008, serving two terms as mayor and eight years as a member of the San Bernardino Associated Governments, or SANBAG.
Roelle was nearly successful in running for a San Bernardino County supervisor seat in 2012, falling short by 1,200 votes.
"I think people receive me well," he said. "They know I'm committed to public service, and I'll represent them well in Sacramento. I've lived it – and I know what the issues are very well for this High Desert area."
* * *
But Sacramento is a different political environment. And Roelle knows that he cannot, as a single representative out of 80 state assembly districts, make uncompromising demands upon the state Legislature and expect results.
"You're not going to get anywhere," Roelle admits. "And that's the problem we've seen with our past legislator. He goes up there and he doesn't try to build coalitions."
Roelle has worked with the Sacramento-based Criminal Justice Legal Foundation, which has been tracking the effect of Realignment on crime levels, sentencing, and local jail population. He said his experience with this Sacramento group demonstrates his ability to work with others at the state level.
"They said that I really bring a certain experience that no other person elected to the state assembly brings to it, because you should know the issues so well when it comes to crime victims," Roelle told the Bee.
Roelle acknowledges the challenge ahead of himself – or other potential state assembly candidates of the High Desert – to get things done in an overwhelmingly Democratic state Legislature. But he said the strategy is to build support.
"There's a lot of issues that I can agree with Tim (Donnelly) on, especially when it comes to 2nd Amendment rights and the over-regulation of laws and over-taxation; but if you are going to get anywhere, you have to build a coalition of support for an issue," he said. "And I think that's what I would do differently. I would go up there and work on building those coalitions, whether it's the Democratic party, the Independent party or the Republican party."
* * *
TOO MUCH GOVERNMENT
What came first, government or the job? Roelle told the Bee he is tired of politicians telling the public they are responsible for creating jobs.
"Well the government doesn't create jobs – okay? The government should just stay out of it and let the free enterprise system create jobs," he said. "And by creating more rules and regulations on business, it doesn't do a darn thing to create a job. It just hampers (business owners) from creating jobs. … So I'm really opposed to raising taxes – the more money you have, the more money you're going to spend" to stimulate the economy and pay taxes, he said.
* * *
ON THE DROUGHT
According to Roelle, over-regulation also plays a role in the state's inability to manage its water supply. Signs along the Interstate 5 graphically reveal how environmental lobbyists are turning the Central Valley's bread basket of the world into a modern day Dust Bowl for the state – even though others blame climate change.
"Knowing the area very well, the Sacramento Delta, the reservoirs, like Shasta Lake and Folsom Lake, those projects were built at a time in this state's history when there was a lot less regulation," he said. "You could not build a damn like Shasta today, which is the largest man-made lake in the state: 365 miles of shoreline. So you have to put some of these crazy environmental issues to the backburner and look out for what's good for humans."
The state's most popular example of "crazy," according to Roelle, is the diversion of tens of billions of gallons of fresh water away from necessary agricultural and public consumption – dumped directly into the Pacific Ocean – to supposedly save a tiny fish called the Delta Smelt in the Sacramento-San Joaquin Delta.
"It just makes no sense," Roelle said. "So the issue with water is over-regulation, and my view on water is that we have to put the growth of food and human necessity before a small fish. The San Joaquin Valley is the food basket of the country, and it produces more food than anywhere else in the country, and it's rapidly diminishing because government says we have to save some species of fish prior to the need of growing food. It's over-regulation, and I would fight tooth and nail to have some of those regulations overturned."
* * *
THE PRICE OF COMPETITION
Others in the race for the 33rd State Assembly district include Republican Jay Obernolte, a councilmember from Big Bear Lake; Republican Brett Savage; Republican Art Bishop, a councilmember from Apple Valley; Republican Scott Markovich, a member of Rim of the World USD; Republican Michelle Ambrozic, an insurance agent; and Democrat John Coffey, a paraeducator at Barstow USD.
Roelle said that even though the race has recently become a bit crowded with candidates, he's confident that his campaign is off to a good start. The key, he said, is raising the needed money to get one's message across to constituents.
"It's unfortunate, but in politics you have to raise a lot of money," Roelle said. "Just to be on the ballot with a ballot statement, it's costing roughly $10,000."
But even with the high cost of politics, Roelle believes his message will endure the length of the race.
"There's several candidates running, and you have to set yourself apart from the rest of them," he said. "And I'm confident that come June, I'll be in the top two and running in November."