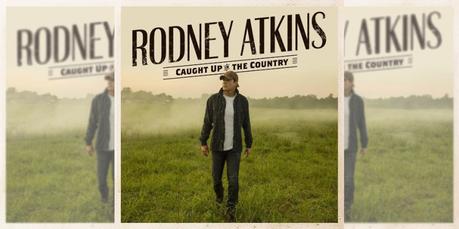 It has been more than 20 years since Rodney Atkins released his first single to the world of country music, but he hasn't slowed down a bit!
Atkins is back with his brand new album, Caught Up In The Country, and we connected with the Tennessee singer for a quick Q&A about the new music, and a round of 5 Quick Questions. The title track has been making the rounds and finding spots at radio, on streaming playlists, and the video for Caught Up In The Country has more than 10 million views since its release last November.
The 11 track album is the continuation of a country music career that Atkins should and can be proud of. It's one that his fans will be able to embrace and add to their playlists.
We asked Rodney a few questions about the album and making new music so we could share them with you. Check it out!
Q. How has your process changed in making this record, compared to earlier albums when you were younger and didn't have quite as much experience as an artist?
Rodney Atkins) I discovered midi guitar while making this record. It allowed me to experiment with a lot of different sounds and textures. I also moved from upstairs to what used to be the dining room right off the kitchen and I took advantage of being an early riser, about 4:30 am... I'd work on the record in the morning before anyone was up in the house.
Q. What was the driving force behind these songs and wanting to put in the work and record Caught Up In The Country?
RA) My driving force was refusing to settle for anything just to say I have something... period.
Q. Is there a central message or theme that you hope country music fans can hear and take away from Caught Up In The Country?
RA) A central message about the music I give them is that I don't take them for granted. That's why I refuse to settle. The only reason I get to do what I do is ultimately because of the fans.
And now, onto 5 Quick Questions!
5 Quick Questions with Rodney Atkins
Q1) If you're on a long drive or a road trip, and can only choose 1 album to put on to listen to, what album do you choose?
Rodney Atkins) Depends on the mood. One of my favorites from back in the day was Garth Brooks' No Fences.
Q2. Do you have a dream collaboration or duet partner that you haven't had the chance to work with in your career yet?
RA) Getting to do a couple duets in this album was definitely a dream come true.
Note:
Q3. Is there a stage that you haven't had the chance to play yet that is at the top of your To Do List?
RA) I haven't heard of it if there is... I'm sure there a few.
Q4. What one thing do you always need to have with you when you walk into a writing session?
RA) Guitar!
Q5. Is there an artist that you're listening to these days that you think other people should be listening to?
RA) I go back from time to time for the songwriting inspiration and listen to Don Williams and Tom Waits.
Thanks again to Rodney for taking the time for our Q&A. Hit play now and give Caught Up In The Country a listen!
Rodney Atkins, Caught Up In The Country Tracklist
1. Burn Something
2. Caught Up In The Country (ft. Fisk Jubilee Singers)
3. Figure Out You (Riddle)
4. Thank God For You
5. So Good
6. What Lonely Looks Like
7. My Life
8. Cover Me Up
9. All My Friends Are Drunk
10. Young Man
11. Everybody's Got Something