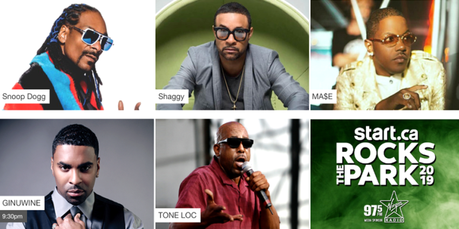 Snoop Dogg, Shaggy, Mase, Ginuwine, and Tone Loc added to start.ca Rock The Park.
start.ca Rocks The Park is taking us back in time this summer with a Flashback Friday lineup that has us ready to roll. Virgin Radio 97.5 FM is bringing some hip-hop, reggae, throwback vibes to Harris Park in London, ON on Friday, July 12, and the nostalgia that we already feel when looking at the list of artists is amazing.
Gates will open for the show at 4:00 pm, with the music scheduled to start at 5:00 pm. We have a feeling that people are going to get to the front of the stage early, so if that's where you want to be, you know what to do. VIP reserved tables and standing room are also available, giving you another option to add to your night.
Related: Rock The Park 2019 FM96 Metal Night Line-Up Additions
Related: Rock The Park 2019 BX93 Country Night Line-Up Additions
There are a lot of hits between these five acts. Some of them are more than hits, they're iconic. Gin & Juice, Pony, Wild Thing, It Wasn't Me, and Feel So Good all hold up. And there's more where those smashes come from.
Check out the list, listen to some hits, and get yourself ready for Flashback Friday at Rock The Park this summer!
2019 start.ca Rock The Park Flashback Friday Lineup!
🎤 Snoop Dogg
Snoop is the legend that never fades. From his early hits to his growing empire, he has spanned generations of music lovers and pop culture enthusiasts. When he hits the stage (in a cloud of smoke?) it's going to be fun.
snoopdogg.com
🎤 Shaggy
Why wouldn't you want to be front row centre for Mr. Lover Lover himself? There's going to be a lot of singing along during Shaggy's set. Get your voice ready.
shaggyonline.com
🎤 Mase
Mase still puts a smile on my face every single time. IMHO, he was super underrated as part of Puffy's Bad Boys stable, and when he went away, he left a lot on the table. So, if he's going to bring the hits and that old flavour to Rock The Park, I'm in!
🎤 Ginuwine
You know you've danced to Pony, you've sung along to Pony, but have you ever heard Pony live, delivered by Ginuwine? If the answer's no, this is your chance. If the answer is yes, this is your chance to do it again.
🎤 Tone Loc
Tone Loc is gonna bring I Got It Goin' On, the Funky Cold Medina and, the Wild Thing to his set. He's going to throw it all the way back to the late 80s, and London, ON is going to love it. Bet on it!
Tickets for start.ca Rock The Park Flashback Friday are on sale February 22, starting at $59 plus fees and taxes. Check them out now!
Want to stay in the know? Visit www.rockthepark.ca.