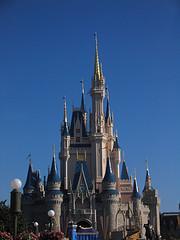 Disney is a pretty cool place. Why can't they totally rock out?
It's no secret that the Wild Heart loves is all things related to Disney. Disney ROCKS when it comes to good art, animation, and just making people feel like kids again. My childhood would not be complete without such films like The Little Mermaid, Oliver and Co., Beauty and the Beast, Toy Story and even Aladdin. The songs only made the films better.
As I wrote about earlier, Disney has a pretty interesting relationship with rock & roll and Broadway. However, one way I was thinking about earlier is how they have a Contemporary Christian music festival every year called "Night of Joy." Night of Joy is one big festival that requires a separate ticket that takes place in the Magic Kingdom.
So as I was thinking today while watching a YouTube video about Epcot Center was this: what about a rock festival or concert series that incorporates both rockers past and present? Like Night of Joy, it would be a separate ticket event. However, it would dwarf Night of Joy in the form of 3 stages sometime over Memorial Day Weekend in May. There would be 3 stages that are active on 3 nights. The 3 stages would be set for different types of artists:
The disney stars stage would happen at the Magic Kingdom. Picture this: your young daughter is a big fan of Selena Gomez from Wizards of Waverly Place. What wouldn't be more magical for your young daughter than to see her at night at the Magic Kingdom along with some of her other favorite Disney stars?
The Legends stage would be held at Disney's Hollywood Studios. It would feature such legends of rock as Pat Benatar and Neil Giraldo, Paul Simon, Heart, Aerosmith, Jackson Browne, Sheryl Crow, Journey, Stevie Nicks, Sammy Hagar, etc. Better yet, to make it a bit more kid-friendly, these legends would be introduced by a current Disney Channel star so that it may be an easier thing for the younger kids to digest. In essence "this is what mom and dad listen to."
The Disney Rocks! stage would consist of current rock artists who would be rockin' either the Animal Kingdom or Epcot. The artist roster would be a who's who of current rock artists such as the Kings Of Leon, Green Day, Florence and the Machine, Ellie Goulding, Foster the People, etc.
Better yet, they could even sell some special edition trade pins with the artists on them either featuring a classic album cover of the artist but, in place of the artist have either Mickey or Minnie. Or you could have a picture of the artist in a pose (Paul Simon with his guitar singing to an animated Mickey Mouse, Donald getting serenaded by Ellie Goulding, Mickey making faces at the Kings of Leon, etc) or Mickey, Minnie, Donald, and Goofy paying tribute to a well-known album. These would all be limited edition pins.
What do you think of this idea?