I have read 2 books of Robert Kiyosaki named Rich Dad Poor Dad and Cashflow Quadrant. He is a self help books author and motivational trainer as well. I like his writings and concepts explained in that book. No doubt about it. But Today when I opend NYPost I found, the headline like, Robert Kiyosaki Bankrupt. First thought which came to my mind that, "It's"not possible". That person has networth of near about $80 Million so far. When I read in detail I found that, One of his many corporations, has filed bankruptcy after getting a loosing judgment from the US District Court Judge, Shira A. Scheindlin.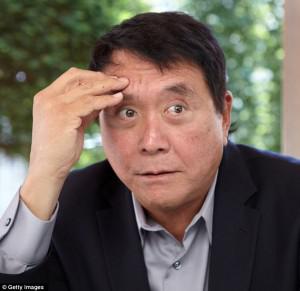 Here as per my understanding, There is one firm called Learning Annex who has worked with Robert Kiyosaki to promote the personal brand of Robert Kiyosaki and then Kiyosaki declined to pay the % of profit. Learning Annex also claims that they had signed letter of intent and they played greater role in building the brand of him.
In April, US District Court Judge ordered Rich Global LLC to pay $23.67 Million and then the Jury ruled and confirmed the pay of $24 Million o 20th Aug.
Now the heck is, Rich Global LLC has not enough fund to pay the Learning Annex and Robert kiyosaki and Kim Kiyosaki are not paying the claim from the personal asset. According to me, There is a provision in the law called Lifting of Corporate Veil, In which the Actual Intent of the party is considered and After deciding the same the government authorities can give judgment in interest of the relevent party, although the corporation's liability is limited by shares or gurantee. In this case, personal assets of the share holders or directors can be held liable.
Well, Robert Kiyosaki is author of more than 11 book as far as I know and having 10 corporations so far, and out of 10, one is filed for bankruptcy  :)
Share you thoughts on the same , Thanks.