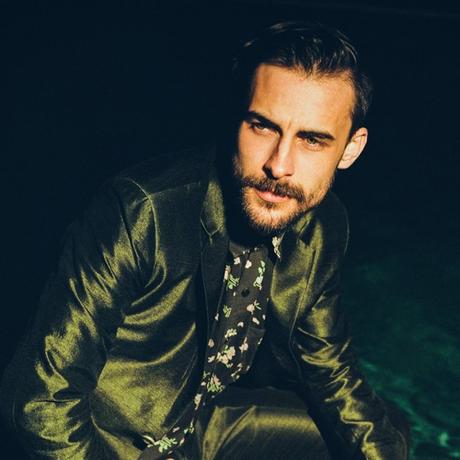 Robert Ellis's music has that soulful twang that recalls the best of the alternative country movement of 20 years ago. When we asked Ellis to make us a playlist, we were expecting a list of exactly the kind of songwriters that he recalls — but what we received was very different. This collection of songs demonstrates just how diverse someones tastes and influences can be and is best described in his own words:
This is a playlist of songs I listen to late at night while trying to go to sleep. This playlist should help with coming down off of drugs (spare a few inevitable moments of anxiety). It could also be a playlist to have very strange, intense sex to which is the best kind of sex.
Playlist
Bill Evans – A Time For Love
This is from a record called Alone. I fell in love with this record around 5 years ago while on tour with Dawes in Europe. I was staying in a hostel in Berlin. There was a dance party happening within ear shot of my shared room (5 beds). I blasted this album over headphones until I could finally fall asleep. A couple hours in I was woken up by two Spanish girls who claimed I had stolen their bed, in a room full of empty beds. I love falling asleep to this album.
Chet Baker – There's a Lull in My Life
Nobody sings like Chet. This is from a record called Embraceable You. Voice, guitar, and trumpet. Just beautiful. More difficult to sleep to because I can't help but sing along.
Tim Hecker – In the fog I
Tim Hecker is brilliant. Maybe the best and by far the loudest concert I've ever seen. Somewhere in Bushwick. The sound literally blew your clothes against your body. I try and sleep to this often.
Philip Glass – Facades
I'm sure everyone is familiar with this song from the Masterpiece Glassworks.
Bill Evans – Dream Gypsy

More Evans but now with Jim Hall. Listen at 1:19. Jim Hall clearly demonstrates what a total master of time he is. That run makes me pause every time I hear it. These two communicate so well.
Aphex Twin – Alberto Balsalm
My insides feel warm and fuzzy.
Dawn of Midi – Lo

"Dysnomia" was one of my favorite records of 2013. 2013. 2013. 2013. 2013. 2013. 2o13. 2o13. 2o13. 2oI3. 2oI3. Get it?
Kaval Sviri – The Flute Plays

From the "Le Mystère des Voix Bulgares". Dense harmony. It's now 7am and the sun is up. You are screwed.
Leo Brouwer, Graham Anthony Devine – Guitar Sonata: I. Fandangos y Boleros
You will feel very anxious until 3:35. You've made some very poor decisions. Luckily, at 3:35 all is right in the world…mostly.
John Fahey – In Christ There Is No East or West
Goodnight.