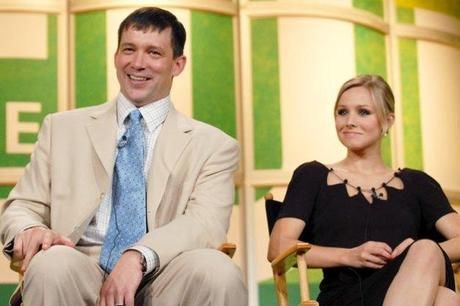 It's an old story we all know by heart. An eager creator makes one of the most adored cult hit show on television, gets shoveled to another network and sees his work get cancelled. Then said creator pitches multiple ideas to revive the show, but gets shot down by network execs. Years later, creator uses Kickstarter to generate funding from interested parties on-line to finally get the budget he needs for a movie version of the show. The conclusion is yet to come, but we all know how it ends…and it ends by becoming an animated Disney movie generations from now when this is all but a distant memory and they'll replace Rob Thomas with the newest Disney princess for marketing purposes. They'll call her…Robella.
Just a day ago, the project earned twice its asking price and so Rob (we're homies) took to the internet to express his gratitude and update us on the status of the Veronica Mars movie. Here's the clip from Youtube:
Rob Thomas looks so giddy in the video. I can only imagine what it feels like to have your show transmutate into a feature film after ten years through the support of your incredible fandom. Actually, no, I can't. But it's become very clear to me that a dedicated legion of fans can become your best weapon in a reactionary industry like this. Maybe that's not the right way to look at it, but I see people as pieces on a board game anyway. I am not well.
Written by Daniel Lee
@zombee_f
@2cool4blog
Related Post:
Veronica Mars Movie Kickstarter Bullet Points