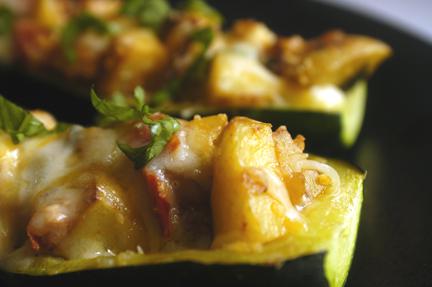 Another zucchini recipe here.  It's one of the few vegetables that my husband eats, so I try to figure out a lot of different ways to cook it!  This one is an old favorite, and zucchini is so abundant and inexpensive now, I thought I'd share it with you all.
It's based on a recipe I saw many, many years ago in Cooks Illustrated, which has evolved over the years.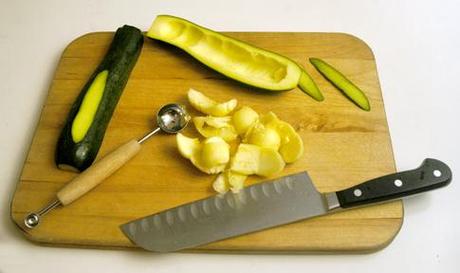 First, prepare the zucchini.  Cut in half lengthwise and spoon out flesh.  A melon baller works the best, but if you don't have one, use a spoon.  I also cut a small slice on the bottom of each zucchini half so it has a flat surface to rest on, preventing it from wobbling so much.
And don't throw out the flesh!  It is great in soup another day.  See note below.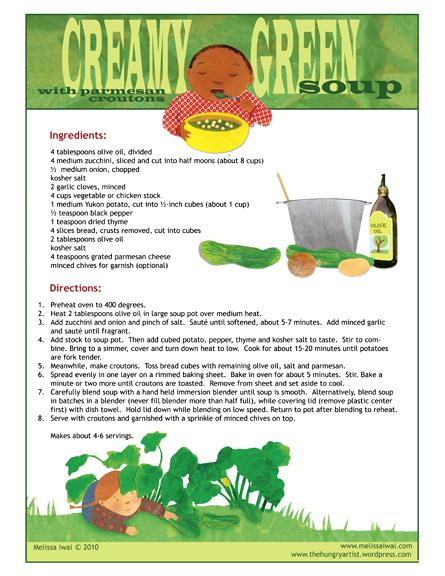 For a readable, printable version, click here.
Roast the zucchini halves with some potatoes tossed in olive oil and salt.  While it's roasting, saute onion, garlic, tomatoes until soft.  Then add the roasted potatoes and some cheese and basil.  Fill zucchini halves with stuffing, top with more cheese and roast or broil until cheese as melted.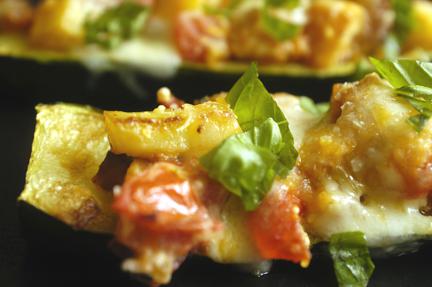 Garnish with some fresh basil if you like.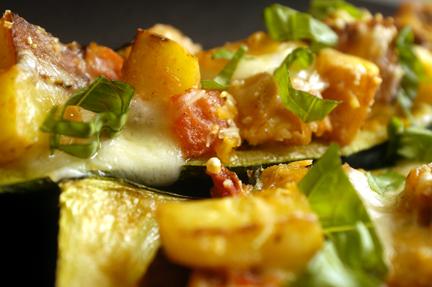 You know it has to be delicious if my vegetable averse husband eats it!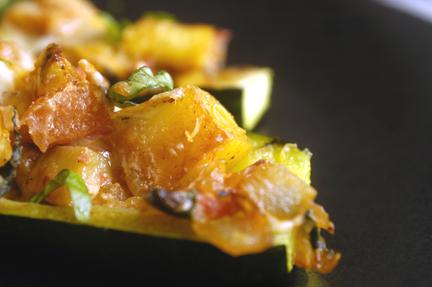 Roasted Potato, Tomato and Cheese Stuffed Roasted Zucchini
4 medium sized zucchini
3 medium red or Yukon potatoes, cut into small cubes
kosher salt and pepper to taste
4 teaspoons olive oil, divided
non-stick spray
1 medium onion, chopped, about 1 cup
2 cloves of garlic pressed through garlic press, about 1½ teaspoons
1 plum tomato, cored and deseeded, chopped
1 ½ cups shredded Monterey Jack cheese or other cheese you like (Mozzarella also works well here)
1/2 cup chopped basil, divided
 Place two foil lined baking sheets in oven, one on top rack and one on bottom rack.  Heat oven to 400 degrees. Cut zucchini in half lengthwise and scoop out interior flesh with a melon baller or spoon creating a zucchini "boat".  Reserve flesh for another time.  Cut off a sliver from bottom of each zucchini "boat" so that it can rest without wobbling.  Brush cut halves with 1 teaspoon of olive oil.  Sprinkle with salt.  Roast in oven for 10 minutes on top baking sheet, cut side down.
Toss potato cubes with 2 teaspoons of olive oil and season with salt and pepper.  Gently remove heated empty baking sheet from oven.  Spray with non-stick spray and transfer potatoes onto sheet, spreading into one even layer.  Return to bottom rack in oven.  Roast for 12 minutes, stirring halfway through cooking period.
While zucchini and potatoes are roasting, heat remaining olive oil in large non-stick skillet.  Sauté onions, stirring constantly, until onions are soft.  Add garlic and sauté until fragrant, about 30 seconds.  Season with salt and pepper.  Add tomatoes and the roasted potatoes.  Cook until tomatoes are soft.  Off heat, add ½ cup cheese and 1/3 cup of the basil.  Stir to combine.
Turn zucchini halves over and divide potato filling among them.  Sprinkle each with remaining cheese (about 2 tablespoon per zucchini half).  Return to oven and roast for about 5 minutes on top rack, until cheese has melted.  Garnish with remaining basil.  Serve immediately (2 halves per serving).
Yield: 4 servings.
Note:  I used to throw out the extra zucchini flesh I scooped out.  Now I save it in a container in the refrigerator and steam it later or throw it into a stir fry.  There is a lot of it, so it's really no point in throwing it away when you can use it in something else!  You can use it with more zucchini to make an easy creamy soup.  Or halve the soup recipe amounts to make 2 servings with the leftover zucchini from this recipe.