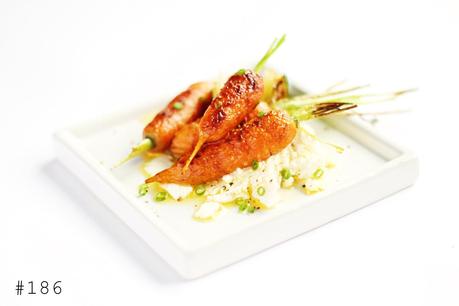 Here in Sweden it is a great season for carrots, they are cheap, tasty and beautiful and come in all shapes and colors, at least if you visit a good vegetable shop. I really like to serve vegetables almost on their own and let they play the main part of a dish. That approach might not work so well if you are serving a main dish but for a starter or in this case tapas it´s absolutely perfect.
I also felt while making this dish that I´ve probably been making something similar before, so I checked and for a trip down memory lane you can check out my previous recipe with roasted carrots, then served with Greek feta cheese instead.
Roasted carrots with goat cheese, chives and lime
carrots, any size, color or shape you likebutterlimesoft goat cheesechivesolive oilsalt, pepper
What to do
Trim and rinse the carrots, if the skin is thick then peel them as well, fry in a pan in a combination of butter and olive oil on medium heat until they are golden and almost cooked through. Check using a small knife while they are cooking so they don´t get to soft, adjust the heat if necessary. When done season with salt and pepper. 
Cut a lime into wedges and add to the pan, roast the lime with the flesh side down until it´s browned, almost burnt. Remove from the pan. Slice the chives.
Plating
Spread a spoonful of goat cheese on the bottom of each plate, add the carrots on top and squeeze a wedge of lime on the carrots, leave each wedge on the plate. Sprinkle the chives on top with a bit of salt, pepper and a few drops of olive oil, serve.