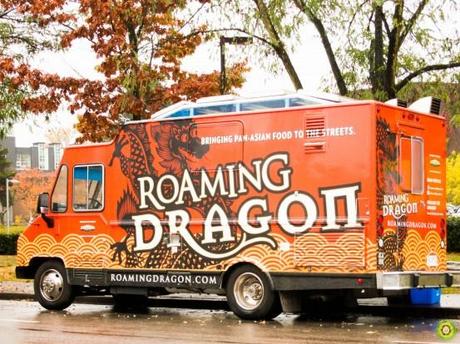 On my bus ride back from UBC, I happened to look out the window and spot the Roaming Dragon food truck stationed outside of Langara!  Because I missed out on their last visit to Langara, I was super excited to finally eat their food!
Since June 2010, the Roaming Dragon has been serving up their unique renditions of Pan-Asian food.  Their menu is small, yet diverse – ranging from Japanese Tuna Tataki Burgers to Indonesian Beef Redang Rice Bowls.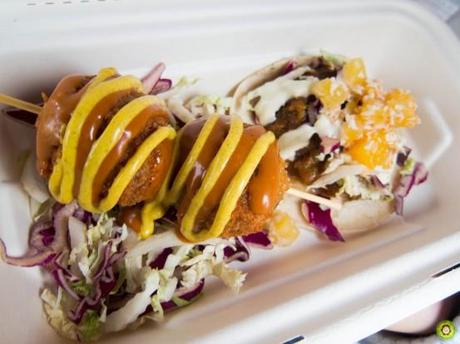 Because hippoCHAN and I were already planning to grab some Pho noodles due to the chilly weather, we only ordered a couple small things as appetizers to share.  Initially, we wanted to order the Korean short rib tacos.  Unfortunately, they weren't available for some reason… seasonal, maybe?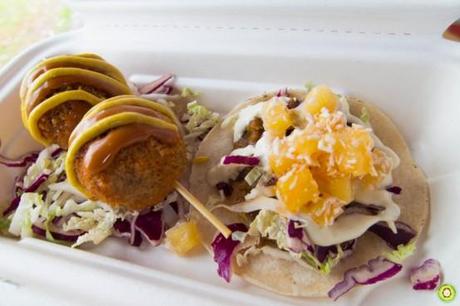 Oh well, we settled on the Spicy Malaysian "Debil" Chicken Taco ($3.00) and Fried Rice Balls ($4.00).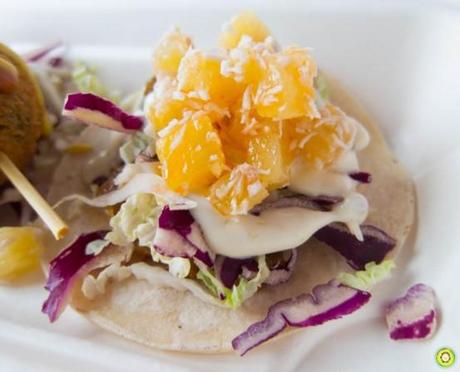 The taco had a smokey heatiness to it, which was mellowed out by the fresh and creamy green onion mayo.  Surprisingly, my favorite part of this dish was the pineapple, which was odd because I always meticulously pick off the pineapple chunks in Hawaiian pizzas.  Overall, the flavours were very bright and each ingredient was distinctively highlighted.  However, I found the portion to be quite petite.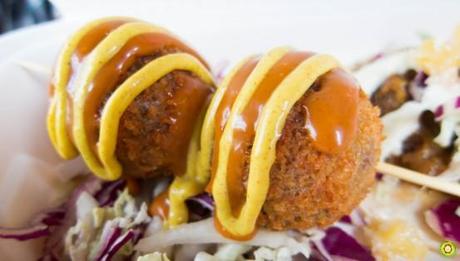 My decision to order our second appie, the Fried Rice Balls, was undeniably inspired by the reigning champions of the Great Food Truck Race (Season 3):  Seoul Sausage!  On the show, they also made Fried Balls, except with a Korean flare.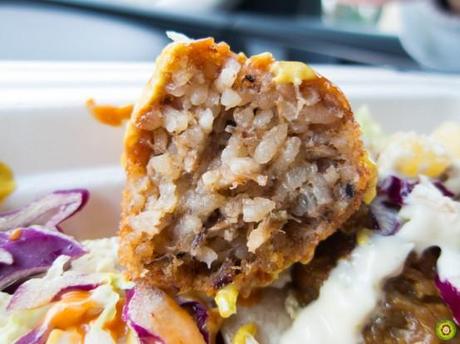 Inside the rice ball, there's Chinese sausage, shrimp, chicken, bamboo shoots, Japanese rice, curry and teriyaki aloli.  It was still good to eat, but it wasn't as spectacular as I expected.  While it had an okay-crispy encasing, the flavor of the fillings weren't especially bold.
Final Bytes
1.  Very unique menu!
2.  Portions are pretty small.
3.  Typically located in Downtown!  You can follow their location tweets via @DragonTruck!
Foodobyte's Rating

---
Website:  www.roamingdragon.com