With the World Cup only three weeks away, the players of 32 countries are closing in on their last preparations for both mental and physical training.  Argentina, considered one of the leading contenders for the World Cup title will be playing their first game in Rio de Janeiro against Bosnia on June 15.  Argentina, although very diverse with the talent of their team, have yet to win another World Cup since the days of Maradona in 1978 and 1986.  They were runner up in the 1990 World Cup against Germany when they lost 1 – 0 after a penalty kick in the 84th minute.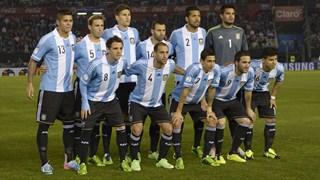 This year may be different for the leading qualifiers of South America.  With players such as Lionel Messi, Carlos Tevez, Javier Mascherano, and Angel Di Maria, the Argentines have a "walk through the park" group stage, all of which are in Rio de Janeiro; Bosnia (June 15), Iran (June 21), and Nigeria (June 25).
Currently ranked 7th in the world, Argentina will be fighting to reach the desired gold cup that only comes around once every four years.